Carsten Corda Pedersen, Guitar
Text and Interview: Leif Martinussen
Edition and Translation: Nete Parkov
My train arrives in Aarhus where I am going to visit the great classical guitarist Carsten Corda Pedersen.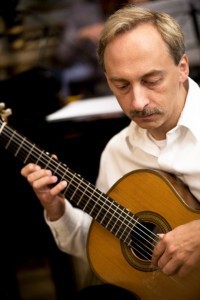 Carsten is waiting in his car at the railway station. Before we head for his home he will pick up some things for our lunch and our dinner table. We shall visit 3 shops with delicacies. In a shop with Italian specialties it is a definite ham he is after. Next stop is a classic store with coffee mills running side by side while a heavenly aroma of ground coffee beans are spreading in the room. Eventually we are buying some fresh and exclusive bread from the bakery.
I am not surprised that Carsten goes for the best quality when he makes his purchases. This must be characteristic for him in all conditions. Perfectionism and quality was also what I met the first time I heard him play at a concert in Løgumkloster (southern Denmark) in 2002. His performance of classical guitar music introduced me to another kind of music than I was used to. Afterwards I received his first released CD "Aquarelle" with guitar music from South America.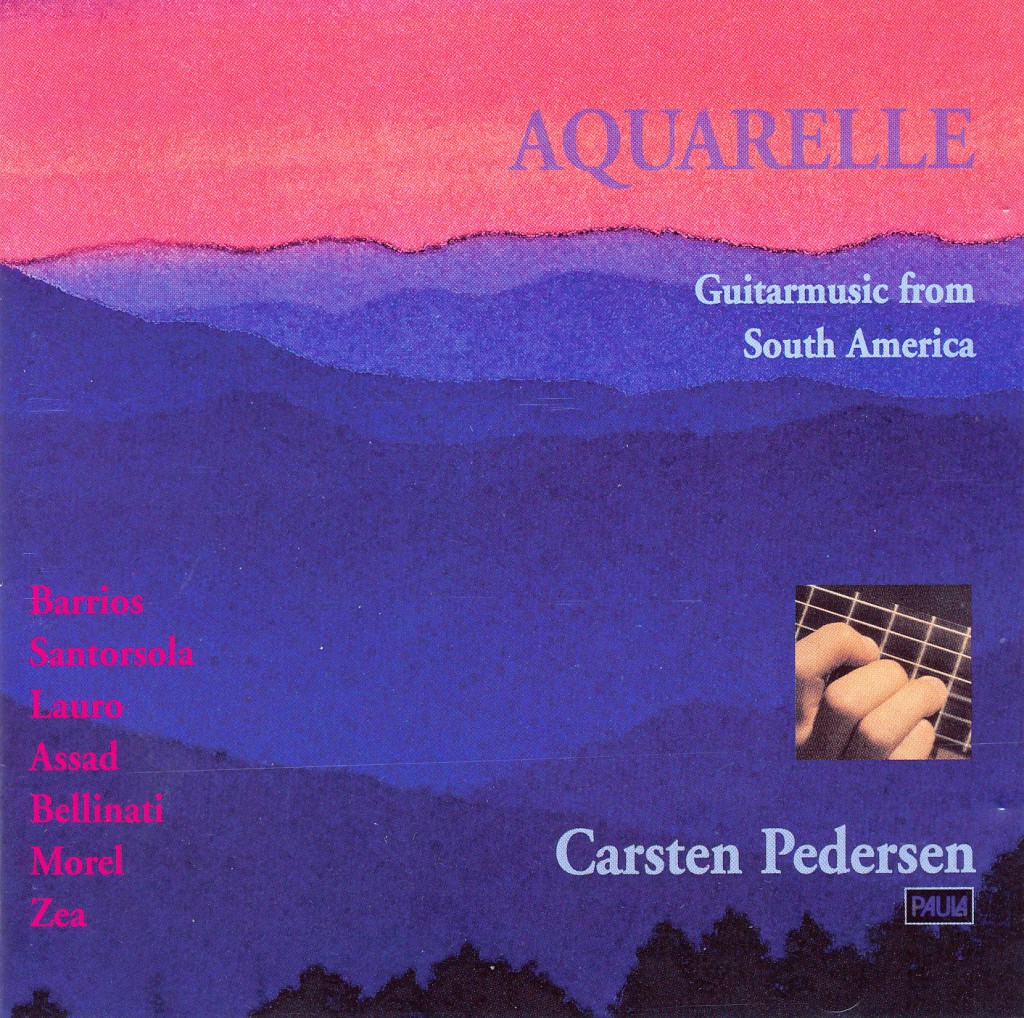 The next many years I invited him several times to give concerts in Allehelgens Kirke (All Saints Church) in Copenhagen, where I was employed as an organist for 43 years. In connection with one of these concerts I got his second CD, Spanish Guitar Music, which was released in 2005.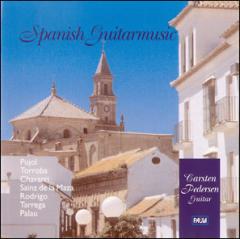 His live performances and his CDs have largely fascinated me by the universe of the classical guitar and at the thought that I might one day write a composition for the guitar. But even though over the years I have written music for many different instruments, I have not yet written anything for guitar. I have never played on this instrument. Its sound and expression is some way from what I usually do as an organist and a choral conductor. Therefore it has undeniably been a long inlet before I really got started with the planned composition.
The fact is that it is not small finger exercises that are set for, when I want to dedicate the composition, which is starting to take shape at home in my compositional workshop, to this particular artist. Carsten is one of the absolute best classical guitarists in Denmark with virtuosity and musical expression that have spawned the greatest admiration and respect at home as well as abroad. So, it is a demanding task I asked myself, and it is important during the process to consult the soloist.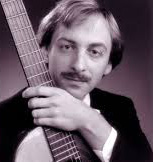 We are sitting at the table in the large dining kitchen in the house where Carsten lives. The wife Lisbeth and their young daughter have retreated to the living room, after we have all enjoyed a nice lunch. Carsten places one of his guitars on the table in front of me, and I feel cautiously on the elegant instrument. At first sight the instrument looks like many other guitars I have seen. And yet – the tree is very beautiful with fine details, I sense something distinguished about it. I ask if Carsten has more guitars than this, and he tells me that he has four classical guitars, built by various guitar builders.
"Actually there are no elite guitarists who play on factory-made guitars", Carsten explains. "All the really good guitars came from the same small handful of guitar builders who live in different places around the world. They are exclusive and sought after because they are just that little bit better than anyone else. Wood quality is obviously very important – what treatment they give it – whether they are based on old traditions or whether they are trying new ways to give the instrument a more powerful sound. For example – look at the edge as it is put together, then you can probably figure out that it has taken a long time to build it."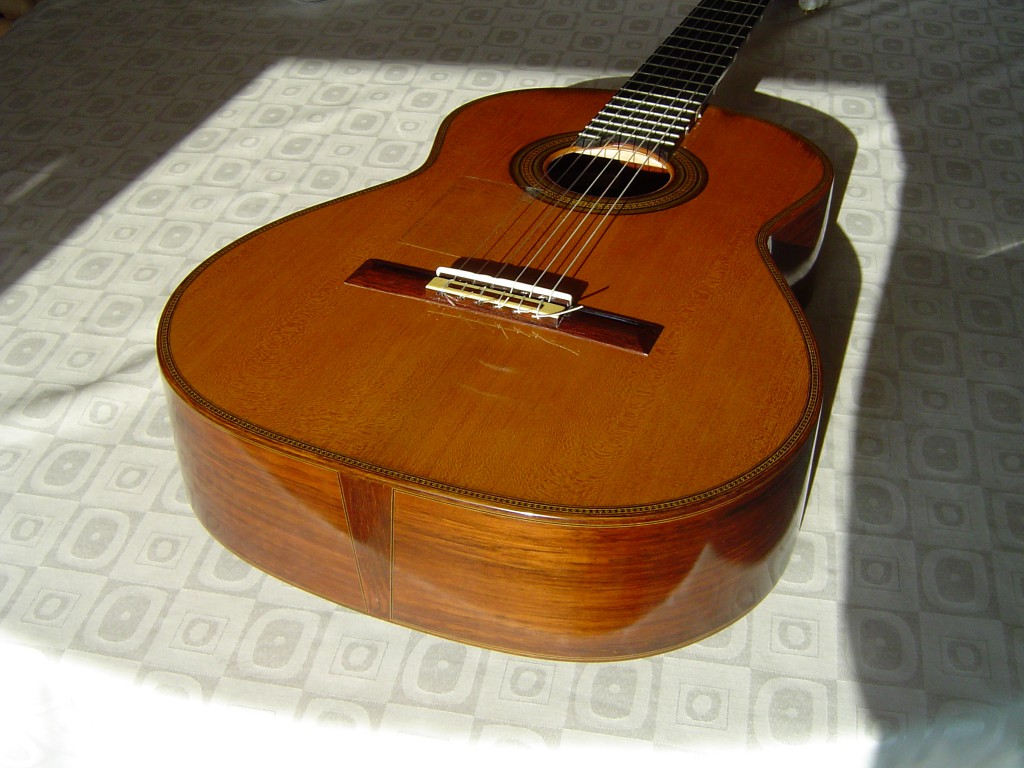 "This guitar is probably the one I use the most. It is built in Florence, and the deck is made of an especially fine quality cedar."
"This one with fir-deck", he continues and shows me another guitar, "was built by one of the best in the art, Dominique Field, who has his workshop in Paris. I had read about him and heard a recording with a guitarist playing on one of his guitars, so I contacted him. He explained to me, among other things, that he attached great importance to sustain, balance, composure etc. On the whole, I thought it sounded appealing what he told me, so I ordered one, for a left-handed musician, which I am. He said there would be 3 years of waiting for it, and it did so 5."
Gradually, as Dominique Field became even more famous and sought after, his waiting list became longer and longer. Guitar builder Field has now closed off for orders, after at one point the waiting list had reached as much as 19 years.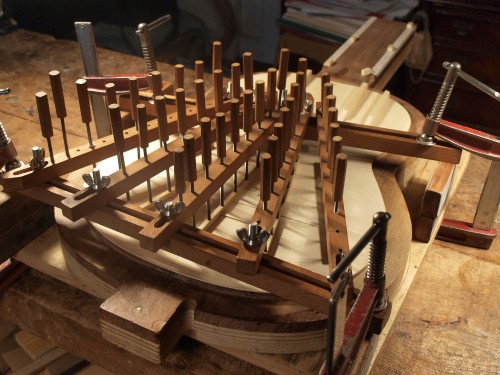 "I just want to say goodbye and thanks for today" a young female voice is calling from the door. We wave to Carsten's daughter who must proceed in her day program. "Goodbye – and thank you for your help", I say. Earlier this day she was able, as so many young people, to give me a helping hand with a feature on my iPhone, as my own abilities were not enough. "You are welcome – bye, bye!" And then she is out of the door.
"The guitar is a polyphonic instrument", Carsten explains, "like piano, organ, harpsichord etc. But inferior in some areas, because after all the others have a much larger scale and can do several things at the same time. The guitar, however, has some other qualities. The sound of the guitar's wood, the fact that the fingers are creating the sound, that you can make vibrato, these things make it very expressive, and you can get the sound to resemble a cello or clarinet. The sound is varied depending on where you play on the fingerboard – close to the chair, at the 12th fret etc. The details are very fine, but there is definitely a big difference whether you hit the string in one or another place. The strings can be manipulated in many different ways. It offers a lot of opportunities and is a prerequisite to make it expressive and make it touch the feelings of the audience. I think it was Hector Berlioz, who said that the guitar is a small orchestra in itself."
"The Spanish guitarist Segovia, who lived from 1893 to 1987, was of great importance for the guitar to be accepted and to enter the concert halls worldwide. He was also one of the first to transcribe Bach's Chaconne in D minor and Bach works at all. He was the icon of his time. If you had taken part of a master class with him, you were something special. But he was certainly not always a distinctly pleasant person towards the students."
"Many of those gurus have probably been a little eccentric …. ", I contend.
Carsten smiles a little: "A story is told about a Danish guitarist, who once played a piece for Segovia. And when he was done, the only comment from the master was: "It's a long way from Denmark to Spain!" It must have been disheartening. And there are several reports like this. On YouTube you can even watch some videos that shows that he could be quite harsh when he taught. He felt there was only one right way to do it. And of course he was certainly rather autocratic – there were so few classical guitarists of his time. Even to the composers he could be more knowledgeable and demanding to get changed in the compositions according to his own head. But of course it must be said that he has had a tremendous impact. He was a major reason why more and more composers began to write for the instrument – and that, of course, was important. Therefore we have some good works today, when we are at least a thousand times as many guitarists as then."
"And yet", Carsten says with a sigh. "You can still meet classical musicians who look down on the guitar and do not count it among the true classic instruments. This we must then just work extra hard to disprove."
"The guitar is indeed a great classical instrument", I deposit, it is telling the story of long ago. Stringed instruments have always been there, regardless of sound volume, appearance and so on. And it's been bred, as indeed happens to all instrument groups. Just think about the pieces that were composed during the period of the hammer piano – when it emerged they must have experienced a great opening after the harpsichord sound – and then came the modern grand piano. Again you got some colors that you could not get before. Such developments also introduces new culture times, where new composers stand out and where you blow up some rules."
Carsten nods thoughtfully: "And this inspires to the discussion, if it is best to play Bach on a harpsichord that it was written for, or on a modern grand piano. Or the question: Are we allowed to play Bach on the guitar? There is an example of a G minor fugue, which Bach himself has written for as well organ as violin and lute. Here is an example that he has not wanted to limit his composition for one single instrument. This is valuable to see. Because – if you yourself have to transcribe something for guitar, you are often inclined to have to move some bass. And here you can see how Bach has done the same, when he wrote the violin part for the lute."
"I wonder if he has done it by practical considerations", I suggest. "Maybe he had to have a voice filled out in some way, and he has used the instrumentalists who were available?"
"Certainly. Had he lived today", Carsten answers, "he would probably also write for guitar and maybe he would transcribe his Chaconne. It sounds crazy heavy on violin. Even the most skilled musicians cannot make it sound effortless, because they most of the time must lead the arc over four-part chords. This can be made much simpler and at the same time sound nice clear on a guitar, although it necessarily changes the rhythmic character."
"So the morality is not to be cocksure – there will always be a solution?"
"Or not to be too puritanical, you could say", Carsten answers. Whether you want to study the notes or hear the music – it must be the audible result that is essential. And now that Bach has made so great tunes – and Händel too – should we then completely fail to play them on other instruments than they were written for? All music should basically be considered as a kind of song that you also perform instrumental."
A young man with a child in his arms looks into the room. It is Carsten's son and grandson, who make their way past and just want to say hello. It is clear that they have unity in the family and a nice, relaxed atmosphere where you also as a guest feel welcome and comfortable.
Carsten is a sought-after soloist, who has played numerous concerts across the country. The classical guitar is particularly suited to the country's most diverse concert stages, namely the numerous churches, representing the great sonorous cathedral as well as the intimate village church. But also on a stage as the Concert Hall Aarhus, he repeatedly entertained by the popular "Classical Mornings".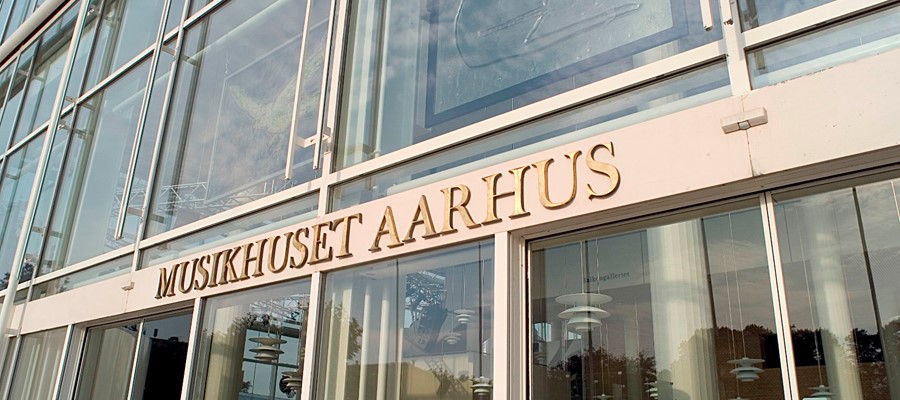 I ask him: "When you so often play alone, you have no support. Personally I prefer playing with others, for example a soloist to play with me. Isn't it hard to have only yourself to rely on?"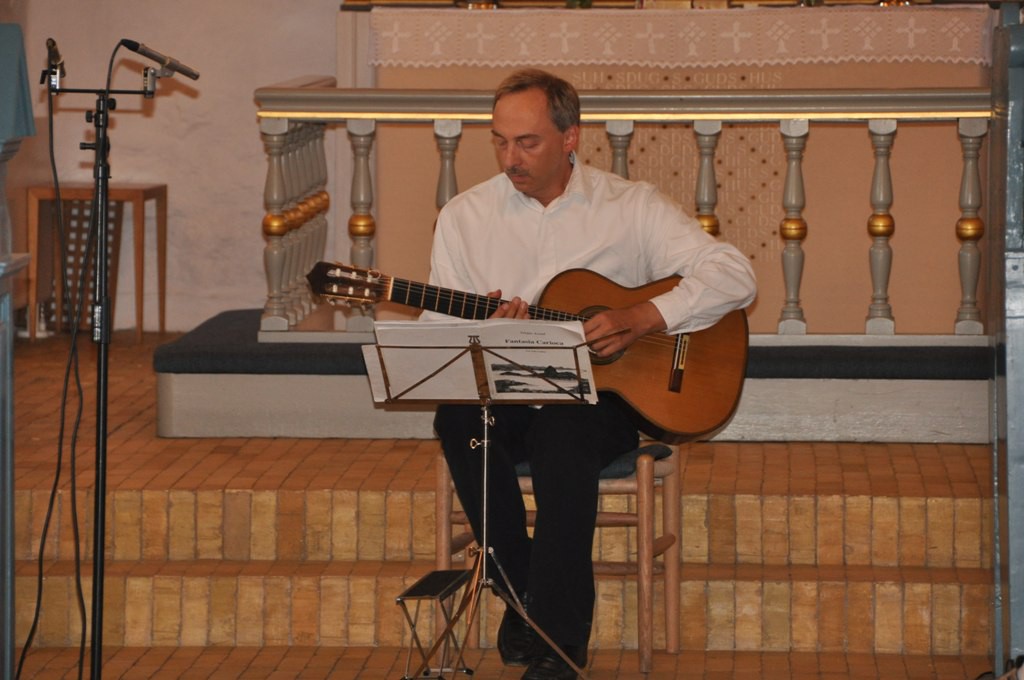 "This must be what I like, since I continue to do it", Carsten answers with a smile. "I have always found it easy to learn things by heart. I have been lucky that ear training, theory and such things were never difficult to me, and thus you get a kind of analysis together with the rehearsal, which easier makes it "stuck", I think."
"Nevertheless, I often bring the notes with me. A concert situation is not the same as practicing in your home, it is difficult to avoid being affected of the achievement challenges when you perform. But it is also a good feeling to be able to tackle being alone on stage. And it is a great experience, when you have played a concert, that people come and tell you that you have touched them."
"At last – before we go to have our dinner", Carsten adds, "it is important for me to say that music is that unique as art, because you cannot explain it. It can give emotions all at once, it can give goose bumps, it can give tears, joy and it can make you want to move your body. We can communicate through music. You can travel to the other side of the world and meet a stranger who is also a musician – and immediately you have a common language. There really is something magical about music!"
Carsten comes from Skive in Jutland and trained in Det Jyske Musikkonservatorium (The Royal Academy of Music) and Musikinstituttet at Aarhus Universitet (The Music Institute at Aarhus University), and he has also been imployed as a teacher in both places. Among others he has received training from Costas Cotsiolis, David Russell, Manuel Barrueco, Roland Dyens, Carlo Marchione, Oscar Ghiglia, Luis Zea, Sergio Assad, Hubert Käppel, Paolo Bellinati, Jorge Morel og Carlo Domeniconi.
Carsten has played a great number of concerts as a soloist and as a chamber musician, and he has first performed many important works in Denmark, including Leo Brouwers "Sonate", Sergio Assads "Aquarelle", Carlo Domeniconis "Koyunbaba", Paolo Bellinatis "Jongo" and "Pajarillo" by Luis Zea.
He has released two CD's: "Aquarelle, guitarmusic from South America" in 2001 – and "Spanish Guitarmusic" in 2005. They have both been given extraordinarily good reviews in international guitar magazines.
"GUITART Int." (USA): "A real knock-out of a recording. Carsten brings a brilliance to these Works that is truly staggering", "formidable technical abilities", "performs some real magic".
"Classical Guitar" (England): "great Things are certainly in abundance on this fabulous recording". "One of the finest recordings to come my way in a long time – highly recommended."
Carstens third CD has just been finalized. It contains music by Emilio Pujol, Barrios-Mangoré and Sergio Assad and will be published shortly.
Copyright: Editshop.dk