Lise og Willy Stolarczyk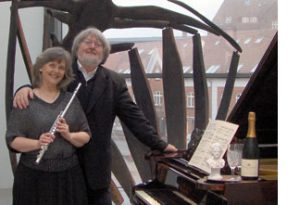 Edition: Nete Parkov and Leif Martinussen
In 2014 researchers from Oxford University got some results showing that food tastes better combined with music. If you listen to music while eating it might enhance the experience by 10 percent – (http://blogs.scientificamerican.com/food-matters/the-sound-and-taste-of-music/)
But even if the researchers see this discovery as groundbreaking, others can recognize it as an experience they have had long ago.
An example is the cookbook "Baits – music for large and small stomachs", authored by the renowned pianist and composer Willy Stolarczyk.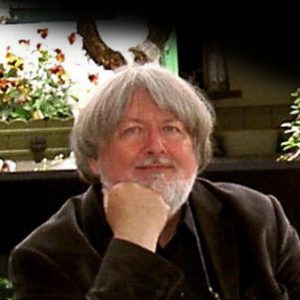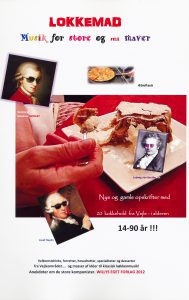 The book includes new and old recipes from 20 amateur cooking teams from Vejle aged 14-90 years – menus and specialties from the Vejle area, ideas for classic cuisine music and anecdotes about the great composers. The book was published by WILLYS OWN PUBLISHING 2012.
In his preface Willy writes, inter alia .: "If you want to entice small or big ones to the table or the CD player or into the concert hall, you should have your bait ready. They can not be tempted by anything, no, there must be both exciting, tasty and nutritious products."
He got the idea of the book while he was a music scene developer in Vejle, the town where he also for years was the head of culture. Through his work for many years he had met a lot of music interested people who also appeared to be talented amateur cooks, and he wanted to let them try their hand in a food and music project, where "music should soar through the pages with recipes as delightful aromas from the dishes".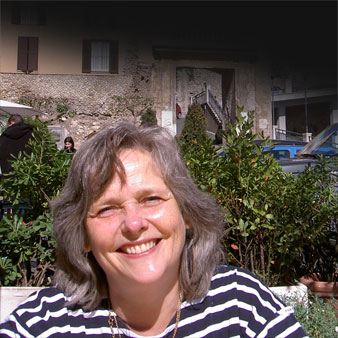 The author's wife, the professional flutist Lise Stolarczyk, shares her husband's culinary interest and has great skills in a kitchen. The couple therefore contributes with a menu in the book titled "Lise's Delicious Baits (for four servings)."
Below you will find the superb proposal for a guest menu from the two classical musicians – with welcome drink, starter, main course, dessert, drinks – and music:
Lise's Delicious Baits (for four servings)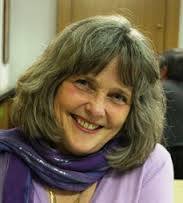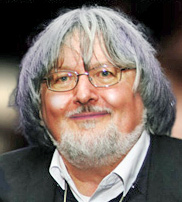 Quote from the book:
Lise Stolarczyk is a professional flutist, and for 33 years she is has been married to and working with the equally professional pianist and composer Willy Stolarczyk in Holstebro, Århus and the last one Vejle, the town where they have lived for the past 20 years. For long periods they also stayed in Rome and Vienna, where people (also) eat well.Very well, indeed. The book "BAIT – music for large and small stomachs" is the result of their international dining experience, complemented by Lise's great abilities in a kitchen and combined with Willy's urge to try out new areas. He is the editor as well as the publisher of the book. 
Welcome drink
TRIANGOLO
This fresh drink consists, as the name says, of three ingredients that form a unit (like the three sides of a triangle). Take : A third Campari, a third fresh orange juice and a third dry champagne (or sect). Serve cold, preferably in tall champagne glasses.
Starter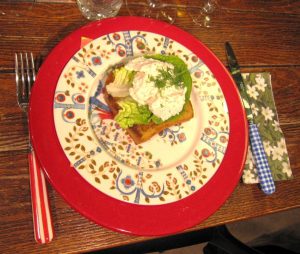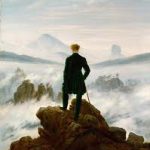 "The wanderer"
This dish is named by Lise's Family, because the hostess is always being asked to reveal the recipe, wherever and whenever it is served and thus, just like the composer Franz Schubert, always must wander from one place to another without ever being able to find peace! 
Take : A glass (60 grams) "caviar" naturel (lumpfish roe). Mix with 200 grams of cream cheese (remove excess water). A medium-sized yellow onion grated and drained and blended in. Now, taste the mixture with fresh lemon juice and freshly ground pepper. The result must have a firm texture (definitely not too runny).
In butter roasted (form) bread slices laid crisp lettuce leaves, and on this bottom is served the caviar mixture, garnished with dill.
A glass of chilled, dry white wine goes well with the starter.
Main course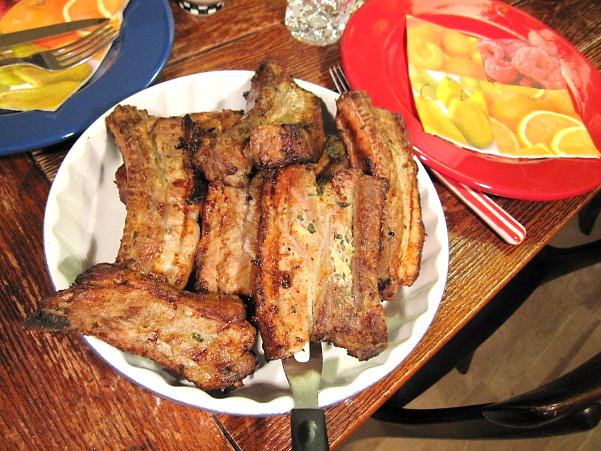 8 yogurt marinated spareribs with rosemary potatoes, herb butter and green salad. 
Marinade for spare ribs:
½ liter plain yogurt (3%), 4 cloves garlic (pressed), the juice of 1 organic lemon, 1 tablespoon fresh parsley (chopped), 1 tablespoon fresh oregano (chopped), 1 tbsp fresh coriander (chopped), 1 tbsp fresh rosemary (chopped). If you use dried herbs, take 1 tsp. of each.
4 tablespoons chopped shallots, 1½ teaspoon salt and 1 teaspoon freshly ground black pepper.
The marinade whipped together and spareribs loaded untill covered. Now they need to soak in refrigerator for about 24 hours.
Remove the meat from the marinade and wipe it off the meat with your fingers. Set the oven at 175 degrees and fry spare ribs on the grill for about 50 minutes. (Fry must be reversed as needed during cooking). Finally, if necessary, a short time barbecue for the final browning.
MUSIC. When we cook, we like to listen to music. We often choose Viennese music (we have CDs from many of the New Year concerts in the Golden Hall of Vienna). It might also be a flute concerto by Mozart or some good opera arias. Or maybe Rubinstein playing piano.
Music is required!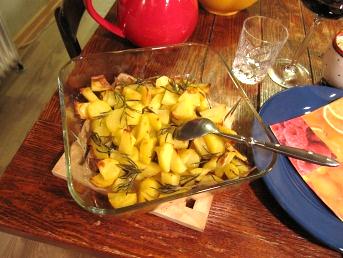 Boil the potatoes (with or without skin), cool and cut into slices and place them in a greased ovenproof dish with sprigs of fresh rosemary and sprinkle with salt. Drizzle with oil and roast in the oven at 200 degrees until they are warmed through and have got crispy crust.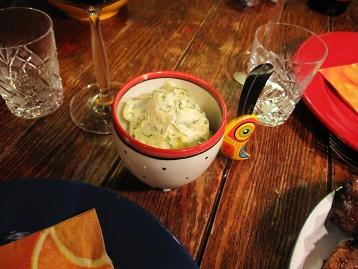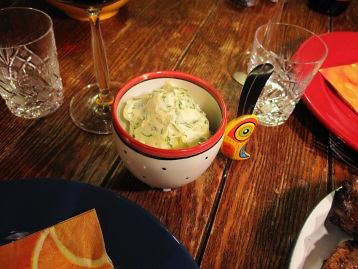 Herb butter. Butter is blended with lemon juice, pressed garlic, chopped herbs (same type as used for the marinade) plus salt and pepper. All mixed together and put in the fridge until needed.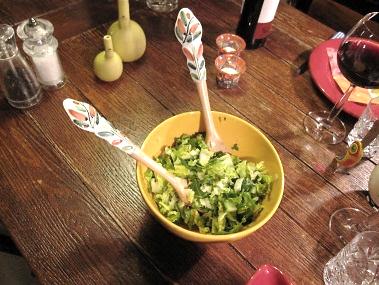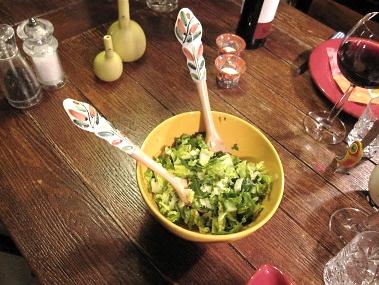 The green salad. Leaves of Romaine lettuce, coarsely chopped fennel, roughly chopped raw cucumber, arugula and roasted pine nuts. Dressing: oil / vinegar.
This main dish is a delicious Lise Specialty.It takes up but is not too heavy – and the taste is really:

A good Italian red wine served with the main course.
Granita (Italian for granité)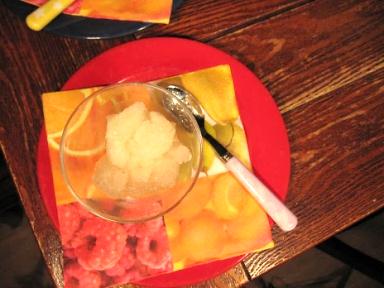 Cook a syrup of 2 deciliter of water and 1½ deciliter sugar. When it has cooled, it is mixed with 2 dl dry champagne /sect and ¾ dl lime juice. Put in the freezer min. 12 hours. Before serving, Granita should be roughened with a julienne iron or a fork and filled in small pre-chilled wine glasses or flat champagne glasses. Served immediately and eaten with spoons. Granita is used – in addition to taste wonderfully fresh – to "clean mouth" in terms of taste between dishes.
Pear, parmesan and compote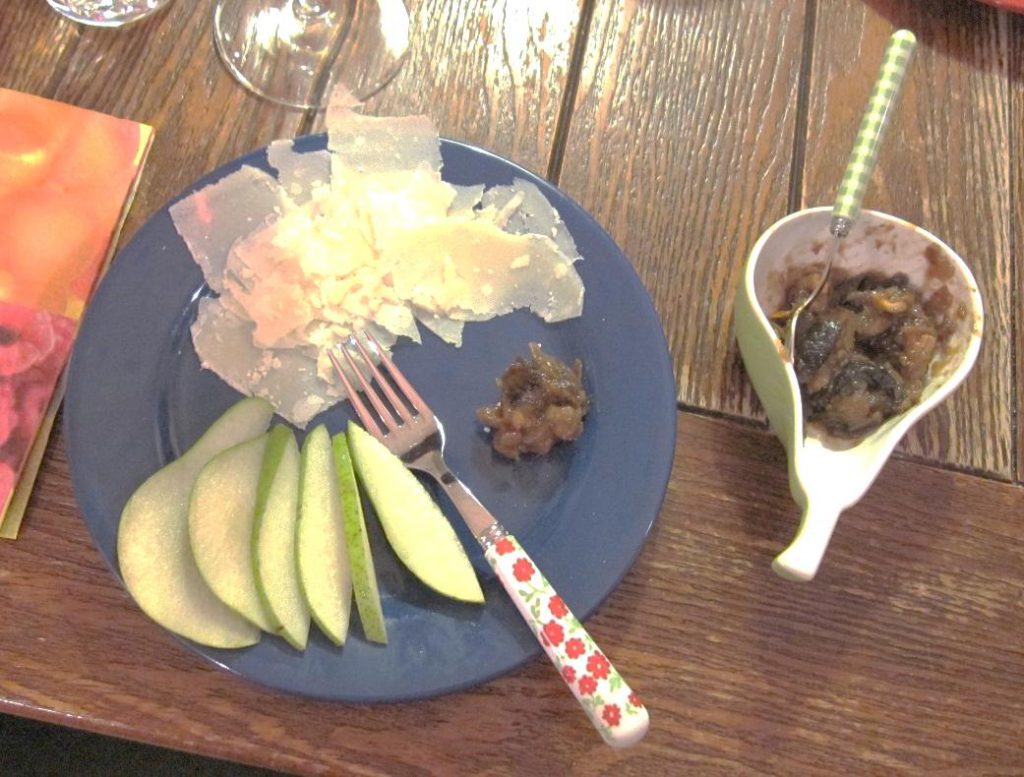 Tart, firm pears cut into thin wedges . (Remember to remove cored, flower and stem) Parmesan cheese planed /cut into thin slices with a cheese slicer/potato peeler.
Served on a plate together with a small portion compote.
Willy's DSN compote(DSN does Dates, Prunes & Nuts)
The bottom of a pan covered with water and adding a little sugar. Put chopped prunes, chopped dates and chopped walnuts in and cover with calvados. Next, the mixture is boiled into a moderate heat and tasted with lemon juice.
Served chilled. (Drink red wine)
Dessert
Schubert After Eight (Lise's Chocolate Mousse Special)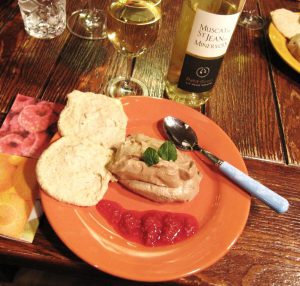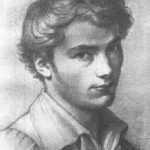 Schubert After Eight (Lise's Chocolate Mousse special)
Bake at first some small thin meringue cakes (biscuits size) as follows: 2½ egg whites whipped stiff. 100 grams white granulated sugar is distributed as follows: 2/3 whipped into the egg white mixture. The last third is reversed afterwards, along with the grated zest of ½ organic lemon, a pinch of cinnamon, 50 grams ground almonds, 25 grams of ground hazelnuts. Now grease the mass out on baking paper as small circular cakes (biscuits in size, as mentioned) and bake about 1 hour at 125 degrees in the hot air oven. Cool and remove baking paper.
Chocolate Mousse: Out of 4 egg yolks and sugar cane you whip a delightful eggnog. Melt in a water bath 12 letters After Eight chocolate and 50 grams of dark 70 % chocolate. When it is melted, add a small cup of strong espresso coffee. While still whipping, stir chocolate/coffee mixture slowly into the eggnog (thin stream). It must not coagulate. Now whip ½ l whipping cream, then mix with the chocolate mixture. In the refrigerator 3-4 hours before serving.
Serving and garnish: Serve on a dessert plate with a small edge of raspberry sauce (see photo) – Fresh mashed raspberries and then rinsed in the water attached, with little content of sugar and vanilla ¾ rod. Garnish the mousse with a mint leaf. A good glass of dessert is not to be despised here.
Bon appetite!
 Lise's menu in verse 
A sparkling trio to go
gives a desirable glow.
Caviar, onions, cream cheese,
Spare ribs (well fried) – oh yes, please!
A break with an ice.
Granita so nice.
Then cheese and pears and compote.
A dessert – and hear
just what we hold dear:
With After Eight mousse,
a raspberry ruse,
EAT brotherhood, while the wines float.
WS-2012
Visit the artists' own website:
Velkommen til Lise og Willy Stolarczyk.dk
---
Copyright: Editshop.dk