Interview: Leif Martinussen
Text, translation and edition: Nete Parkov
Ole Reuss Schmidt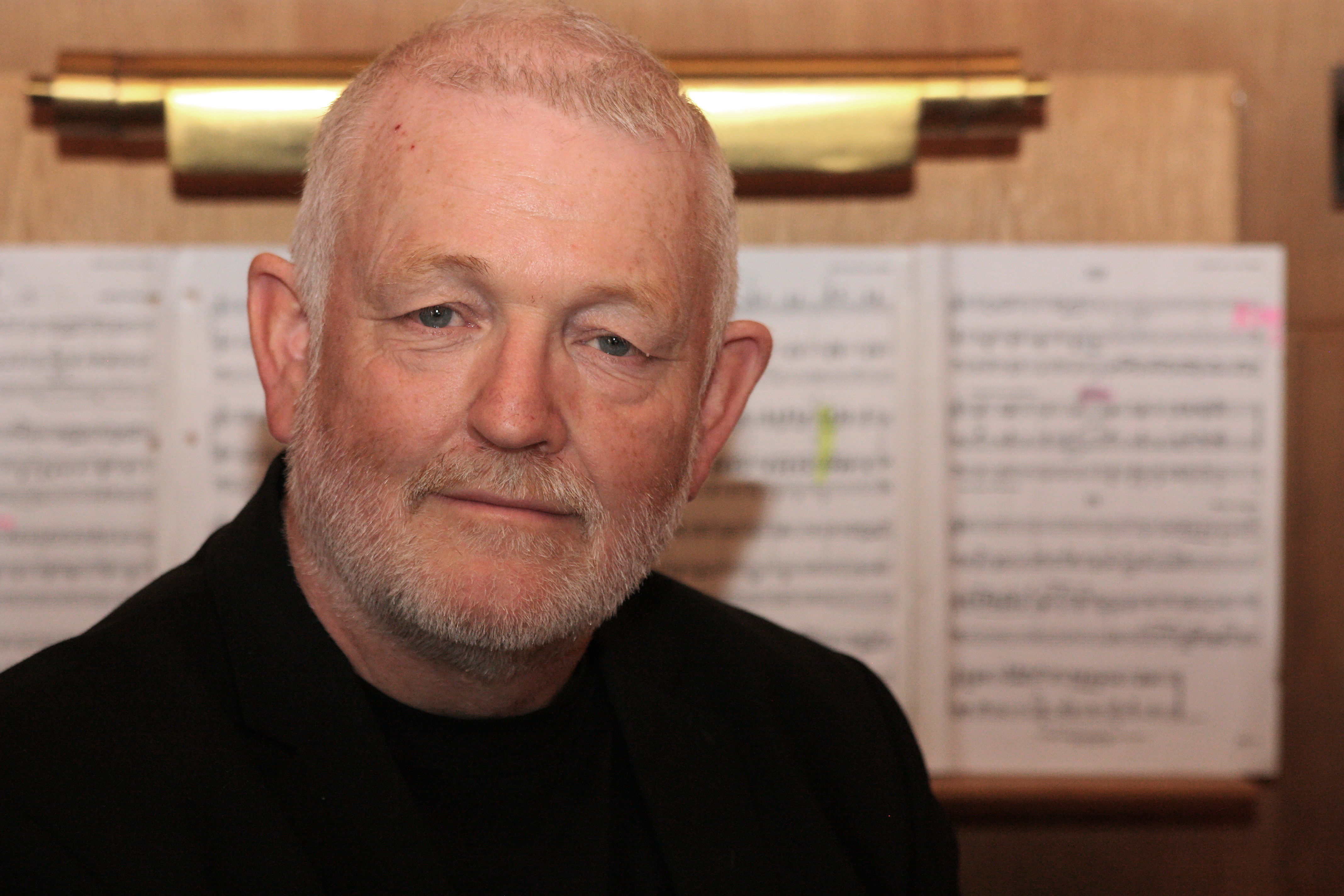 4th December 2016. At Kongens Nytorv (King's New Square) there is a small Christmas market located on the edge of the barrier to the underground subway construction. It smells of mulled wine and fritters, and people flock to the stalls.
A group of pedestrians are leaving the square and continuing up Store Kongensgade (Great King Street) with targeted footsteps. They rush towards the proud Frederiks Kirke (Frederick's Church), popularly best known as Marmorkirken (The Marble Church).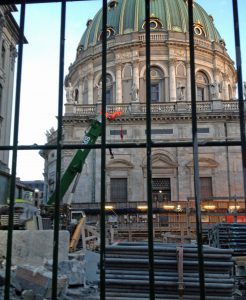 But here as well they meet barriers – here too there has for years been activities related to the ambitious expansion of the subway, which will make it possible for locals and tourists to move quickly between Copenhagen's different neighborhoods underground. The people see the church behind the barriers, but they can not as usual enter the church square from this street.
Human flow continues rapidly towards the next side street, they turn right onto Fredericiagade and turn right again onto Bredgade, until they reach the main entrance of the Marble Church at the end of the little Frederiksgade (Frederick Street). Here people arrive from all directions, they walk up the broad stone steps and into the dim lighting of the church.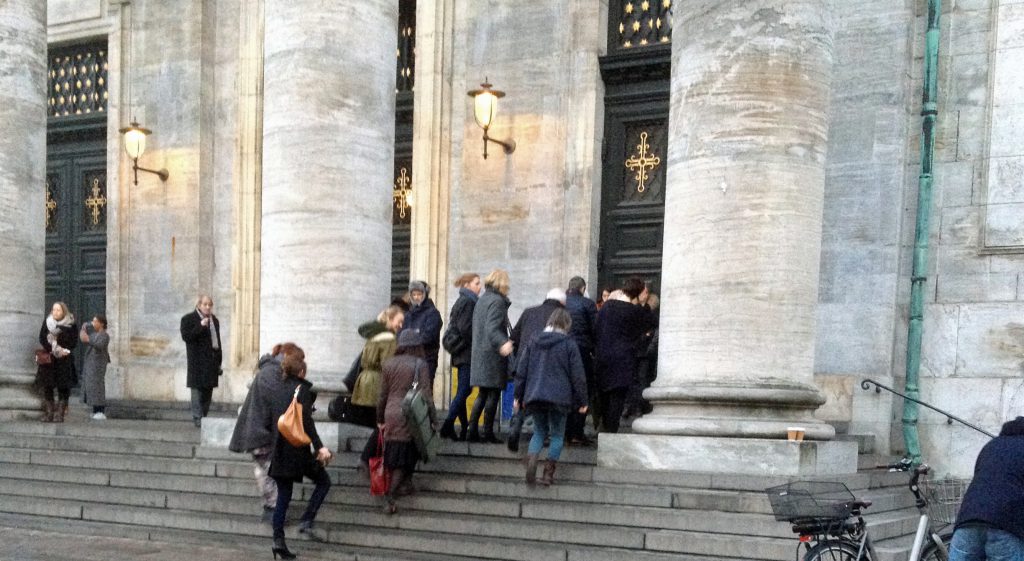 Copenhageners experience in this period the musical Advent traditions – as they do in other parts of the country, across Europe and in many parts of the world – the performances of Christmas music, praising and worshiping the birth of Jesus Christ. And one of the greatest and most beloved works with this theme is G. F. Handel's oratorio Messiah – for choir, orchestra and soloists.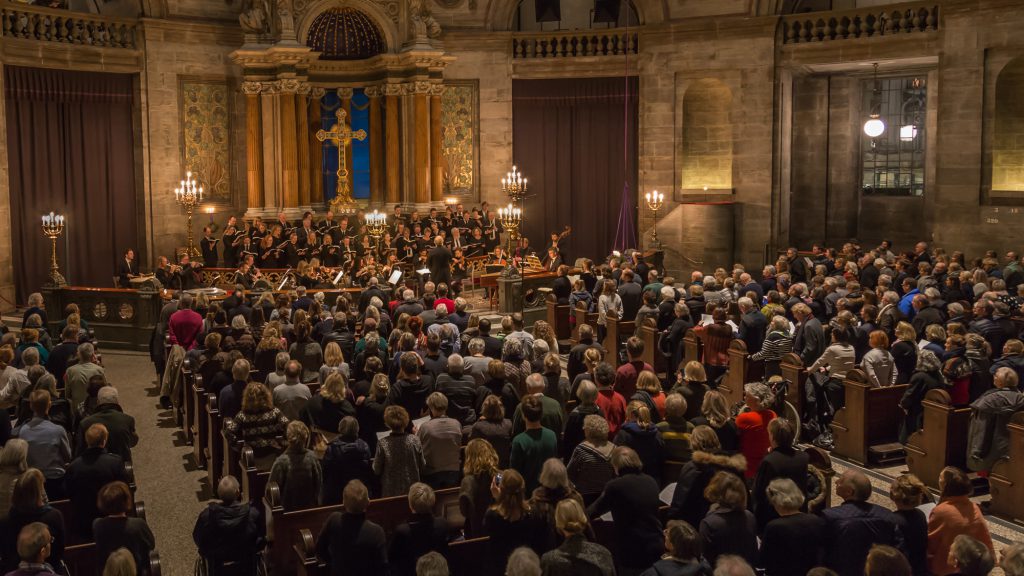 In the Marble Church, the work is performed by the chamber choir Euphonia, founded and led by organist and choral conductor Ole Reuss Schmidt. In addition to the choir 24 orchestra musicians from the best orchestras contribute. They are members of the Radio Symphony Orchestra, the Royal Chapel and others. The soloists are Royal Opera Singer Sine Bundgaard, soprano – Royal Opera Singer Elisabeth Jansson, alto – Royal Opera Singer Niels Jørgen Riis, tenor – Royal Opera Singer Magne Fremmerlid, bass – and Solo Trumpeter of the Royal Chapel, Nikolaj Viltoft.
The duration of the work is 2 hours and 45 minutes. It is a feat for soloists and for every instrumental musician and singer, who with only a single break of fifteen minutes must be in constant concentration and act with careful precision. But the feat of the conductor is total.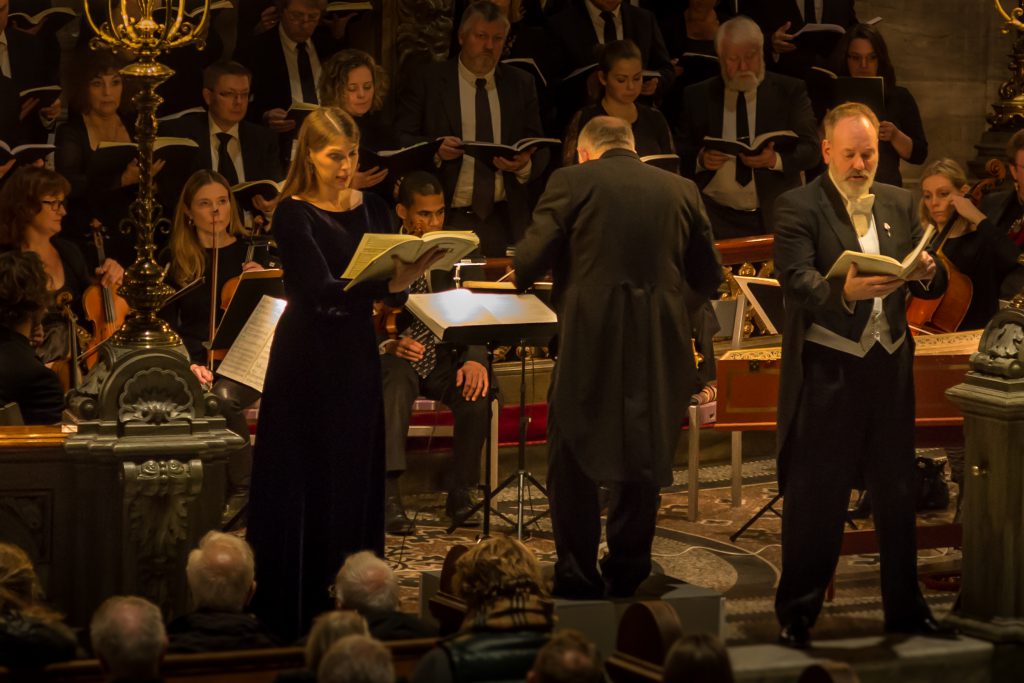 The conductor cannot occasionally, as soloists, instrumentalists and choristers, breathe out and wait for the next section in which he will participate. Not only must he participate in it all – he must initiate, manage and maintain an overview, know where every musician and choral group sets in, mark the musical expression, tempi etc. It is not a job for the faint-hearted to step up the podium in such a magnificent setting – and in front of an expectant crowd in a monumental city church, where every seat is sold out.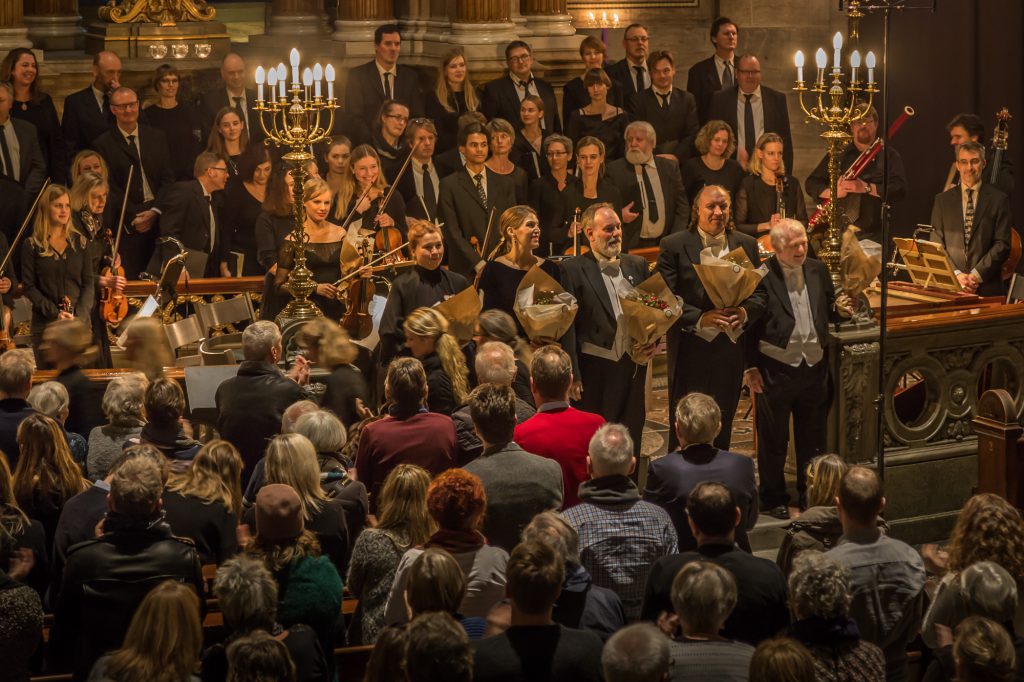 But Ole Reuss Schmidt tried it before. It is the 39th time he and his choir perform Messiah, either in Christiansborg Palace Chapel or here in the Marble Church. His good friend and colleague, Leif Martinussen, previously asked him some questions:
How did this tradition begin?
The first time I would make an orchestra, I phoned Milan Vitek, violin professor at the Conservatory. He sent me some students who were only 16-17 years. One day one of those had his parents with him – and it turned out to be bratchist John Eskær and violinist Charlotte Teilmann. Since then, those two helped me to put together the orchestra. They have insider knowledge of the strings in orchestras and can assemble them most advantageous. There are actually several things that it may be useful to take account of. For example, some strings match sonorously better together than others, and there are questions of temperament and chemistry between people to take into account – it is a diversity, a science. So I've been very happy for their practical assistance.
In addition, I have a good board. It requires indeed a financially responsible board to arrange the great creations as the Messiah as well as the other oratorios, we have performed. And in terms of the economy, I am supported by very reliable people and a very competent treasurer and bookkeeper. In the choir board there are right now some very young people along with some slightly more mature people. And it's a good cocktail, the board works well this way.
Yes, I know that you regularly perform Mattäus Passion and h Minor Mass by Bach. You could say that you are the organist in Amager who have had success with the big shows and thereby created great traditions. Are you going to continue with putting those large ships in the water?
Yes, I am. I am 61 years now and I tremendously desire it still. I now perform Messiah no. 38 and 39, and I am delighted. Besides the concerts, I enjoy also notes – and exercises – and as long as it feels that way, I will continue. Definitely! I had to cut down a bit on other things, 61 years old I am perhaps not quite as good to sit up late at night and work and then get up early as when I was 41. But the choir will be the last thing to minimize!
One might think that the work with the Chamber Choir Euphonia next to a busy position at the church would be an ample mouthful for most. But Euphonia and the permanent choir at the church are not the only choirs, Ole is the head of. He is also conductor of the Music Choir Copenhagen, a mixed choir and orchestra, consisting of approximately 40 singers and 20 musicians composed for the occasion, and especially singing classical church music.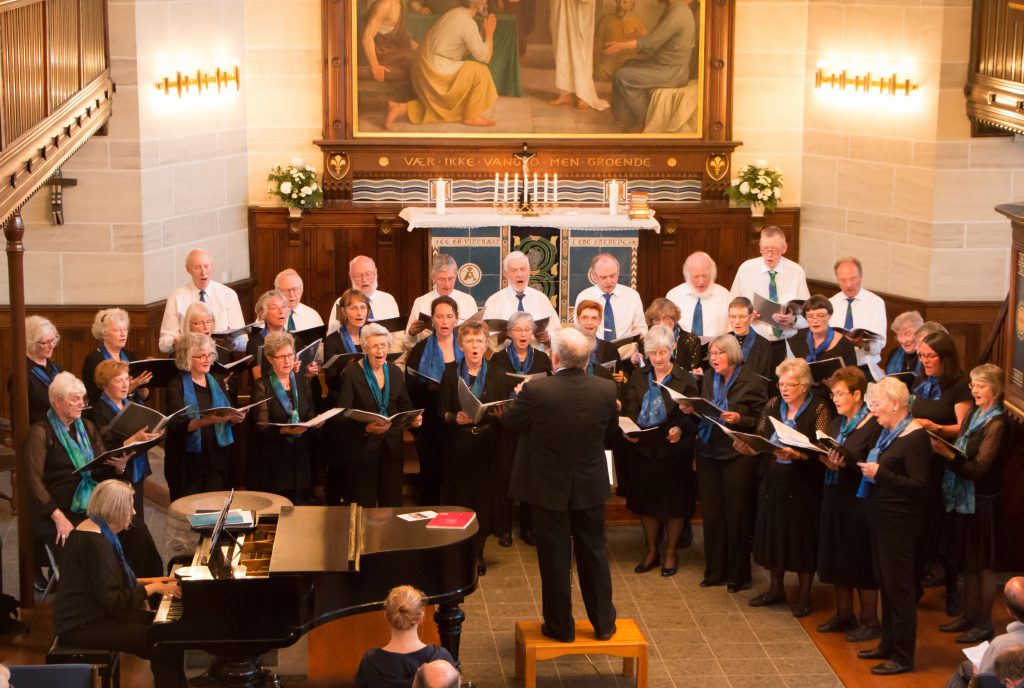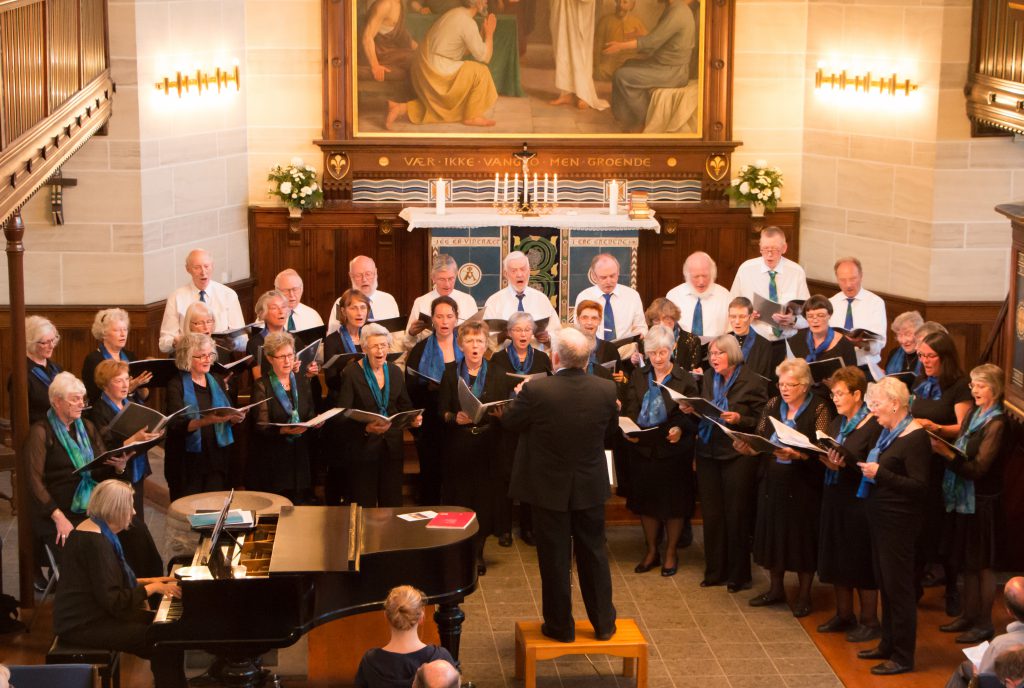 I have great pleasure of Music Choir Copenhagen, he says. We had a rehearsal last night practicing on Händel's "Coronation Anthems". It was a fine and lovely evening, and I drove home, happy, from the choir.
Ole has been on many concert tours with the Chamber Choir Euphonia and he has also been traveling with Music Choir Copenhagen. With the latter chorus he made in May 2014 a concert trip to the Balkans, where they visited five countries: Serbia – Montenegro – Croatia – Albania – Macedonia.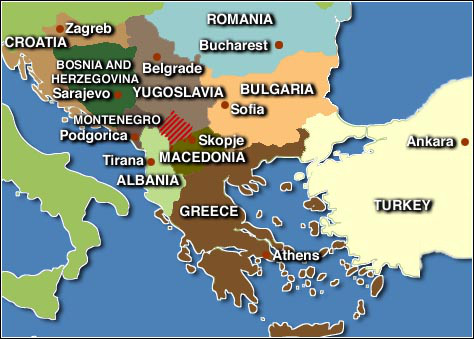 With Euphonia he is going to Germany next year. In the spring they were in the Faroe Islands. Previously, they have been in England, France, Norway, Sweden, Spain, Portugal, Italy, Albania – and as far away as the United States, South Africa and Cuba.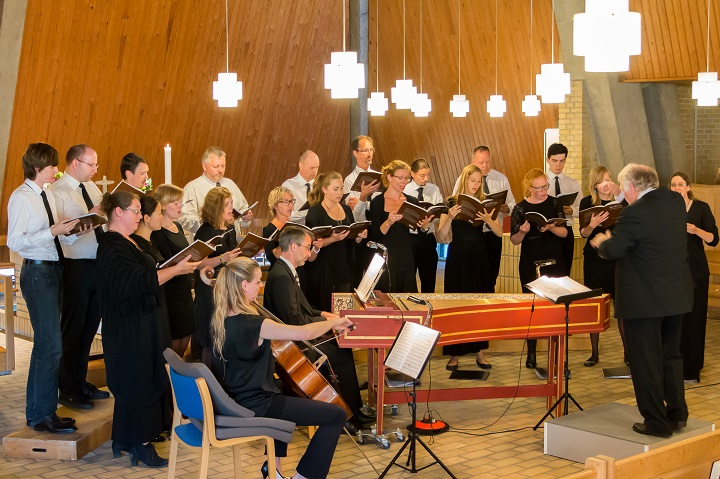 On the journey to Cuba in 1999 it happened that the socialist-oriented members of the choir became aware that there probably were errors in the Cuban community system. At the same time the right-wings became aware that the system, after all, also had qualities. It was experienced as a very fine thing that both wings on this trip recognized that the world is not black/white. So it was an eye opener for everyone, Ole smiles.
Ole Reuss Schmidt is a musician with an inexhaustible enthusiasm. As a full-time organist at Korsvejskirken (Crossroads Church) in Amager, he has a busy schedule of religious services, religious ceremonies, the leadership of the church's regular choir, congregation meetings, nursing home services, staff meetings etc. In his tenure as organist Ole has also an obligation to arrange and perform a number of concerts each year, and his concerts are well attended because they are known to always be of high musical quality.
To increase his repertoire for high mass, he has composed 56 motets for alternating Sundays in the Church Year with its texts as a basis. He has a special insight into these sources and partly from his organist education, but also because in his early youth he underwent theological education for the priest deed.
Ecclesiastical year lyrics have certainly been a great inspiration to me, Ole says. I love these texts, they are wonderful and a great basis for writing music, so I have done it with great joy. But in general, I have to say that belief in God is very important to my musical work. I will not hide. Church music is really about something.
That faith in God is important for Ole Reuss Schmidt he felt with extra strength when two months ago, he experienced a painful loss in his close family. A mere 40-year-old nephew, who were close to him, died of leukemia. The day after the tragedy he had to direct the h-minor-Mass at a great setup in Christiansborg Palace Chapel, and one might think that this would be too difficult a task as close to what had happened. But Bach's music and the text of the Mass gave him just the comfort and strength that carried him through the first time in his great sorrow.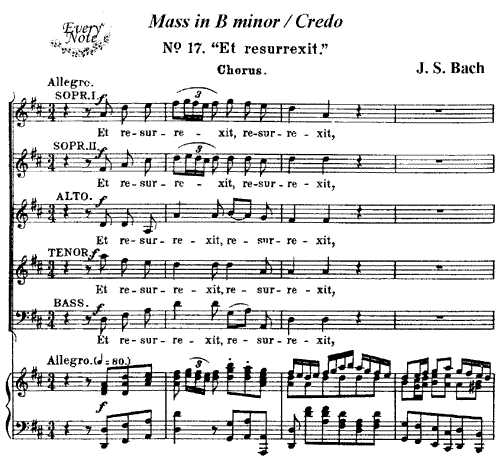 Especially "A resurrexit" made an indelible impression in the situation. On the fifth day I had to play for the funeral, and this I could too. When you've played for so many years, you just do it when you have to.
What aroused your interest in the church, its message and its music?
It happened early in my life. I come from Bylderup-Bov, a small town in Jutland at the border.
Musically, it started in 1967 when I was 12. I got a piano teacher named Erik Christesen. I had taken piano lessons since I was 9 years old, so I already knew nodes. But not until I got Erik Christesen as a teacher, I went through a rapid development. He really planted a sprout in me with regard to keyboard instruments. He had the format to make classical music interesting for both me and my siblings. We came to love it. My parents had no relationship to classical music, but they respected their neighbor across the street, which was mutual. And I think pretty much that my parents thought that if only the children play music, they are not rascals within that time. So they supported it, absolutely. Erik Christesen was able to unlock the music, so this 12-year-old really got a taste and interest in it. That much that I was employed as organist at age 14. That's how it could be in the villages when missing one to play. And it has indeed been, as it were, but it was the beginning of my career – and I played in the same job until I was 21.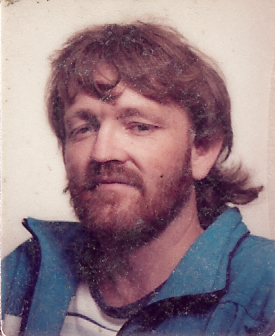 Another thing down there in South Jutland, the Lutheran Mission was very strong, and they had a brass band. And most who came there, simply got a brass wind instrument in his hand of 12-14-16 years of age. My upbringing with Luther Mission had great importance musically, but especially for my understanding of the church's message and texts. At one point I was in doubt about which way to choose. That's why I studied for the priesthood. But luckily I chose the music – it gave me a good life.
Oddly enough Oles time as a soldier led him to choose the music. During spare time, of which there was plenty in the army in those years, he used to play music and discovered that he enjoyed the many hours of practice. Then, after time as a soldier, he applied and was admitted to the conservatory in Esbjerg.
We had a lot of outstanding teachers at the conservatory, but I would especially highlight my organ teacher, Peter Møller, who was of great importance to me. I often think about him, even though it is now 40 years ago.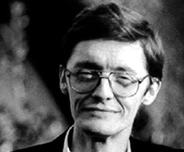 You know – when you look in your notes you can sometimes encounter things written by the teacher – and it's great, I feel joy. You feel back in time and think: It has been very important, this! I graduated in 1983 and I must say that time was completely another. I am pretty sure that there was more money devoted to teaching than today. There was more scope for each student, definitely.
As I said I had my first organist job from the time I was 14 until I was 21 years. Then I took PO exam (completed organist education that can be prevented with the higher diploma), and it gave me the opportunity to apply for a position where I could get a little more in wages. I came to Toftlund Church in southern Jutland, and here I played while I went to the conservatory in Esbjerg. It was very convenient. And when I had finished at the conservatory, I went to Copenhagen. I was hired in the position of organist at Korsvejskirken (Crossroads Church), and now I have been here for 32 years.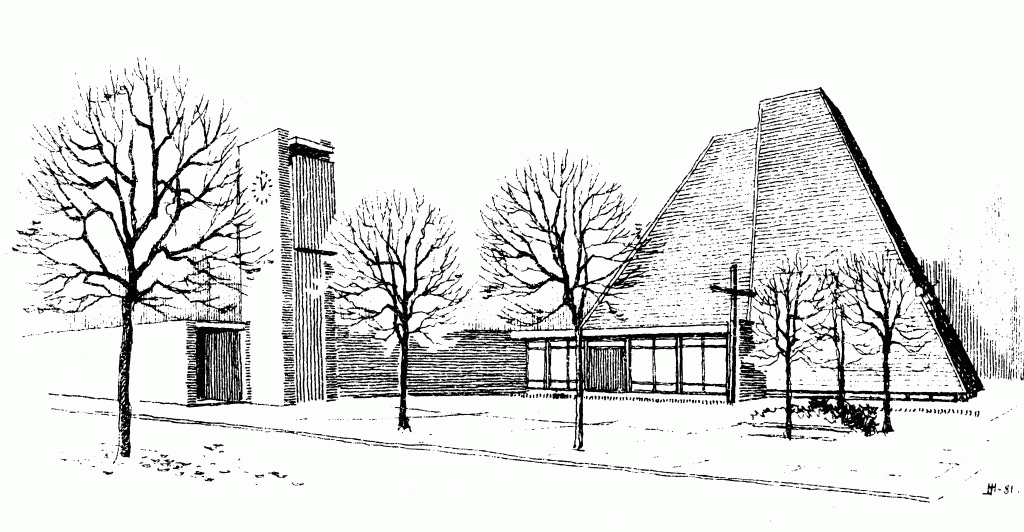 It must have been a massive shift from Jutland to Copenhagen – including way of thinking?
Well – I am certainly incarnate sønderjyde (from Souther Jutland) and somehow I was indeed reluctant about moving to Copenhagen. But there were posts over here, and there were none in Sønderjylland (Southern Jutland) – otherwise I would certainly have stayed there. Today, however, I can look back at a good time in Copenhagen.
In terms of choir work I was lucky from the start, because when I as a provincial lad in 1985 came to the City to play for worship, four talented singers already stood ready in the church. These four had all been pupils on Sankt Annae (school in Copenhagen with elitist singing and music lessons), they were no more than 20 years, and they said: We have many former classmates, and it will be a pleasure for us to build a choir group for you. An so they did! Already a few months after it was Bach's 300th birthday, and on that occasion we made a concert where we performed the Bach Cantata no. 21 "Ich hatte viel Bekümmernis" with 4 or 5 strings, I think to remember, and thus it had started. I had not expected, but the opportunity presented itself, and I was thrown into it. I had contact with two of the singers many, many years to come. Well, I have still contact with one of them, she is with the chamber choir Euphonia even today. This is of very great value – running into such singers that have been so very supportive to me.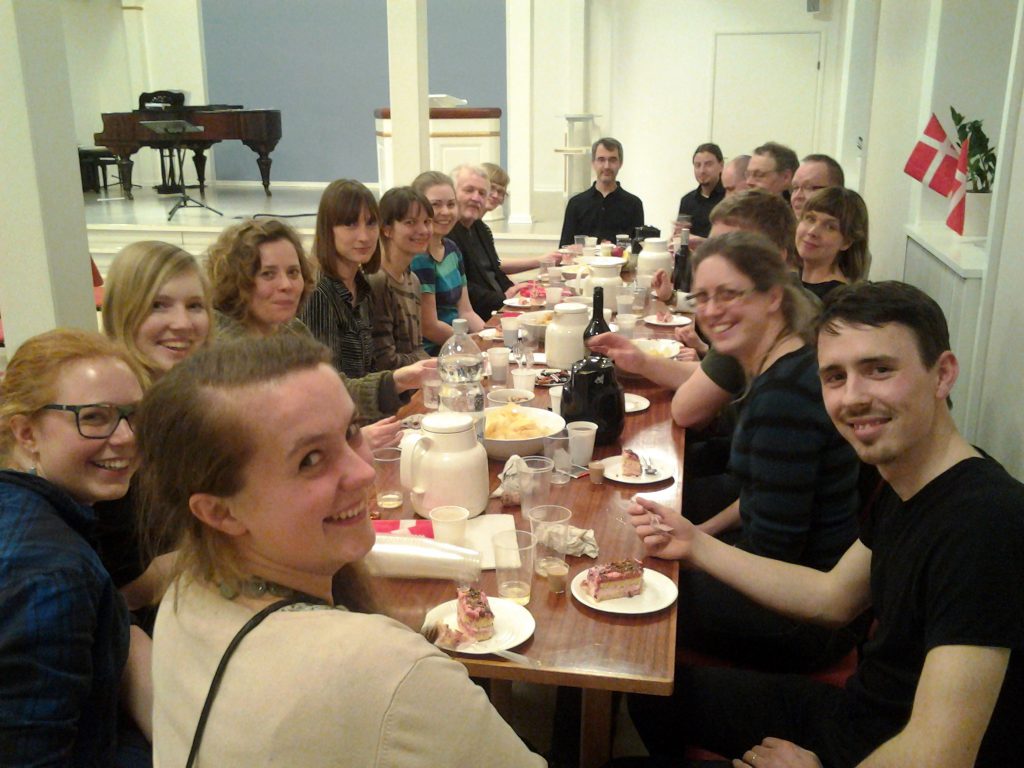 And the very best quality of choir work is the community. On the organ bench you sit alone. This is nice and interesting, too, but with the choir, you have a community. And if, for example. traveling with a choir – you have companions, you have dialogue and solve problems with others – it gives a completely different journey than if you just left on vacation for yourself.
It's also been great to be part of Amager Music Festival – a thing among so many other things. We organists saw here a professional community that has been inspiring and still is. I have my roots in Sourthern Jutland, I am still a member of the Lutheran Mission Society, which I very much appreciate – what the church is concerned. And on the musical level, I think that's the way it is for all organists that you hopefully find your own style and your own values in the music.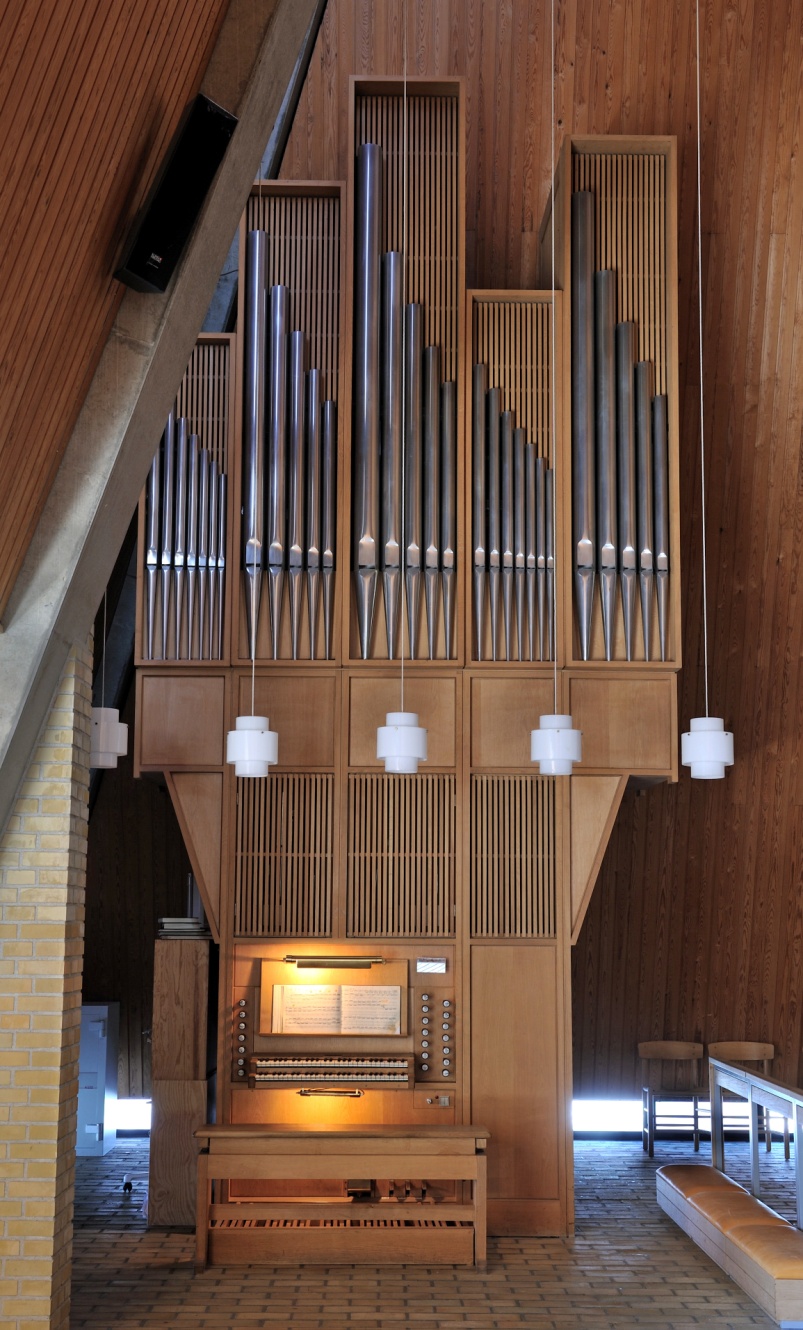 In these years I am very eager to play the music that is suitable for the organ. If I can find music that fits together with the organ's qualities in Crossroads Church where I play every day, then I really think that everything meet in a noble synthesis. French music, for example, is not so suitable for the instrument, this I don't play often. However, other features are suitable. Especially the old music – but also newer music like yours, Leif, I've also played a lot. I find myself in this phase right now – to find out myself in relation to the church, the instrument and the music.
What is your attitude to the rhythmic elements of new hymns and gospel song that is becoming more and more popular?
There is something unfortunate by the popularity wave – I am a little afraid that the rhythmic element and gospel song is first and foremost about making it popular. Well, it may be possible to make rhythmic music from the premise that the music fit the text, then the rhythmic music can be an option like the classic. But there is also a tendency, I think – like children who definitely want ketchup with their meal. And then it does not matter if the food is healthy and nutrient – as long as it has ketchup. It is my feeling that it is the same with the beat – as long as there is rhythm, it's common to think – o, this is cool. But the content and the music becomes poorer in this way. It is rather a way of being together rather than content and deeper reflection. The Gospel text is not popular! In fact, Jesus was crucified. The Gospel text will never be popular. Church's message is the most important thing, and Jesus Christ who died on the cross for our sake – this is the most important message of the church. I do hope that the Church will stay focused onto this, so it will not just be a cultural institution – or a community center.
How do you see the future of the Danish national church? Do you think that it comes to a separation from the state?
I hope not. But the wind blows the words to that effect. On the other hand – I think the national church may turn out to be a bulwark against the confusing electronic wave and the disintegrative tendencies that wash over the community. The national church might turn out to be the place where it is possible to breathe. I also experience that people coming to the concerts, said: Oh, how peaceful it is to sit here! I am anxious to see if the pendulum will swing back or whether Western culture and civilization is heading for the abyss. Like Roman civilization – and Greek – and all civilizations collapse at some point – so I'm excited to see if we are now experiencing such a collapse or whether the pendulum swings back with more focus on the deep and reflective items.
My last question: Do you ever have time to concern about other things next to music? Do you have some interesting hobby?
Very little, but … I follow the Premier League in football, and obviously it is SønderjyskE (football team from Southern Jutland) that I so much – so very much – support. And I'm in a little better mood if SønderjyskE just won.
I feel the same way about Hobro.
And that's why, Leif, the two of us are in such a good mood at the moment. Both teams are on the way up. Incidentally Hobro visits Fremad Amager on Sunday.
---
Copyright: Editshop.dk