Siobhan Lamb, Composer
The old Composer asks questions to his younger female colleague
Interviewer: Leif Martinussen
Editor: Nete Parkov
In 2009 the Irish-English Composer Siobhan Lamb and her family were thinking of leaving London. They wanted to move somewhere else and to experience living in a different country. For a while they thought that Berlin might be somewhere they might move to.
Siobhan had never been to Copenhagen or Denmark. But in 2009 her husband – a great English jazz trumpeter –  was invited to Copenhagen  for a week, for the opening of the new Danish Radio Building. Siobhan came with him, and she fell in love with the place straight away. She realised that she really wanted to live in Copenhagen.
A month later they returned to Copenhagen with their Children. The children liked that they were allowed to walk around in Copenhagen on their own and feel safe – and that they were able to go iceskating. With their family, Siobhan Lamb and her husband, Gerard Presencer, moved to Denmark in the summer 2009 and after 6 years they are still here. Gerard got a job in the Danish Radio Big Band, and Siobhan started with great enthusiasm and energy a string of Projects building up her musical Works.
I met her and her husband at a celebration held by the Danish Composer Association, and I felt at once she was a very special person. Kind, gentle and strong at the same time. Some days later she invited me to a concert in the historic Court Theatre in Christiansborg, where I heard her fantastic and beautiful Work "Through the mirror, tales from childhood".
A stormy day in January 2016 Nete and I received her visit for a cup of coffee, and now I could ask her all my questions from one composer to another. So I asked her:
What is your role as a composer?  
"My role as a composer is that I'm trying to be the composer in the high street, if you like. As if – we go for bread – we go for meat – we go for new music. I'm trying to encourage the idea that music is good for all of us.We have all the research telling us the benefits of music, and if we are not getting that message across, something is fundamentally wrong . I'm trying to look at different ways to address that.
I have started Copenhagen International Children's Choir and run the Suoni Ensemble. I have four great opera singers I work with. I also started an adult amateur choir. The Amateur Music making has been really exciting, actually, because both the children and the adults are very enthusiastic about the music. I want to draw on that excitement and help it to grow. I have done two performances where they were part of the concert with my ensemble. We are hoping to start a tradition by doing a concert the first Saturday in June and the first Saturday in December. We did a Christmas Concert in December, and we had a full church. I had no funding and we didn't make any profit, but luckily enough the costs were covered, because people who were participating spread the Word, and we had enough people coming in. Creating projects like this and seeing how they develop really interests me.
I also love to work bringing together people at the very top of the profession, and creating a performance with people that haven't even started, just beginning to create their first musical sounds – I find it really exciting, when you put the two together. You can get also a different kind of support from these places that you couldn't even imagine."
I understand your attention is like the composer Wagner?
Yes – or even a bit like Benjamin Britten. He did things like "Let's make an opera" – involving the whole community. To have that aim where you are doing projects that involve the community, but not compromising the music. You're still using the best musicians that you can. It's about reaching out to new audiences, showing them that live performance – live music – can be exciting and part of their every day life.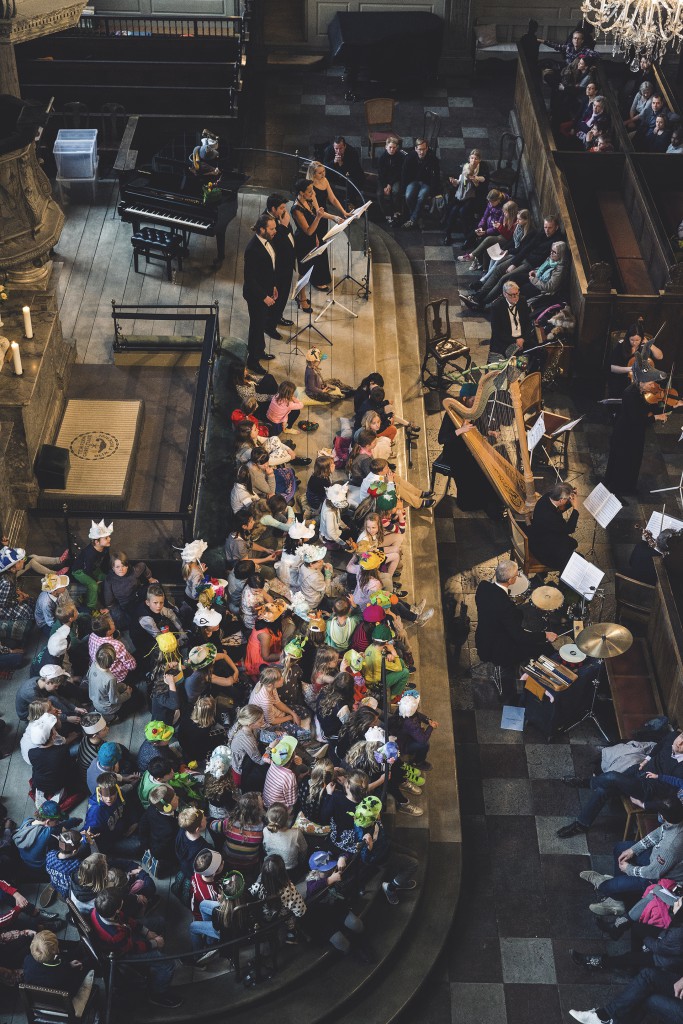 What are you working with for the time being?
Musically,I've got some really good projects going.
However, a lot of my energy is going into creating new audiences and opportunities, so that I can really keep composing. Sometimes I'm inhabiting the layman's world , rather than the Composers world, because I interact with people, hoping to find new audiences.
As a composer I write a lot of music. I am currently working on a commission from the Danish Radio for a fantastic project. The Red Shoes based on the H.C. Andersen story. Initially we are making Children's concerts, and working with very high level musicians. I have Marilyn Mazur playing percussion and a Brilliant Tap Dancer, Sindre Postholm who starred in Top Hat at the Malmø Opera, a fantastic dancer. I am very much looking forward to seeing what we can create.
Do you have a background as a performer?
Yes. I was a professional flute player for ten years, and actually I'm playing flute on this project. I'm going back to London every month to having regular flute lessons, with the inspiring Phillipa Davies.
Do you have other musical contacts to Britain?
Yes. I'm waiting to hear about funding from Britain, another project in the UK, which is – I don't know if you call it "special educational needs" – do you call it that? Special schools for children with difficulties. In Lincolnshire there's great provision for children with Special Educational Needs.
Yes – we also call it that. Children with autism, for example?
All sorts of things. They are interested in me coming over and composing an opera for them. So – if it works, the plan is that I would go over with numbers of the ensemble for about 5 weeks to do some research, to see how the children are – how the best they respond – and also to form a chorus out of their parents. Then I will have 2 months in the middle to write the opera. Afterwards I will go back and rehearse it with them. We will have a weeks intense rehearsal with the whole ensemble. And then it will get put on in Lincolnshire Cathedral.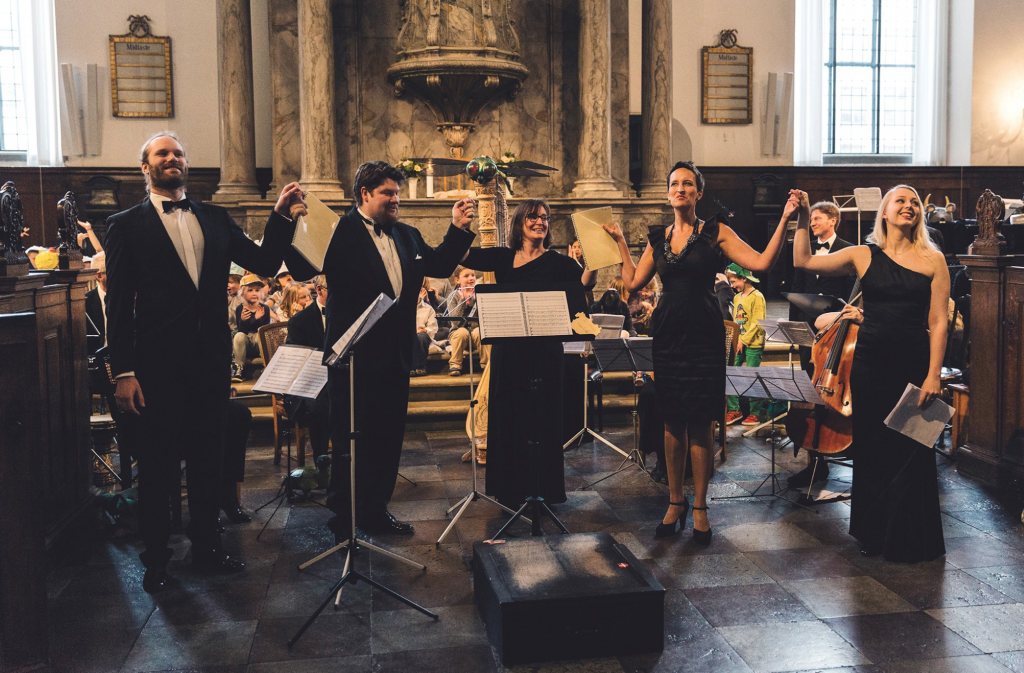 The aim is that we would do King Canute with Simon Duus in the leading role. He is very busy as an opera singer in Denmark. And also Stina Schmidt, who was the leading part in – I say it in English "Other Buildings" (Andre bygninger ), the Danish opera that got the Reumert price. And Sofie Elkjær Jensen is the well Known Soprano. They are the three singers that I work with most of all, and that's just lovely. I was at lunch with them and some other people, and I was mentioning this project. Simon said: Have you got a story yet? And I said, I was thinking what story we could do . So he was sitting for about 10 minutes just quietly, and then …: "King Canute! I really want to be King Canute!"
So creating these projects takes up a lot of the space. And when I have the chance to just sit down and compose, oh – it's like fresh air. Although the different aspects of my work are actually all creative.
Your name sounds Irish. Are you from Ireland?
My family are! And there's definitely a very Celtic sound to my writing, and it's funny, because I grew up in London and I've always lived in London. But the Celtic sound is natural to me. Also my attitude towards music – the idea that it's a community thing, it's a party, it's a celebration, it's a sharing – thats very Irish. Irish qualities, really. I compare music to food. I want people to need it, like needing to have a good meal. Maybe things like that are quite Irish.
So you want them to eat the music? To absorb it?
Yes! I want to serve them, feed them. It's difficult. Somebody might say: Oh, you want to please them! But you don't want to go too far – you don't want to compromise yourself to please people – you still have got to be true to your own voice! But I think if you went through a lot of trouble to create a meal – and nobody ate it – you might think: OK, I'm not sure I'm gonna make that meal again. Some people might insist to make it again and again, but I don't think I would. Maybe I will when I'm older, maybe I'll get more confident and say: I'm making this meal whether you'll eat it or not, because I want to! (She laughs) But I'm not quite there yet. I have to feel useful in some way. Again, this might be because I'm a mother, a female.
There are not that many role models of female Composers, but I think I need to feel that the music is serving a kind of purpose. That it's making people closer together, because they're experiencing something enjoyable, beautiful, hopefully.  It needs to feel that it's in some way nourishing. What do you think about that?
Well. I'm in fact very interested in female composers. It's an exciting world to me. There are more and more of them – and it is also being clear that there were a lot before, but people didn't listen to them as much as to their male counterparts .
And that's the invisibility cloak. People aren't deliberately rude, but sometimes it's like you haven't done anything, as if you and your work do not exist.
This has to be challenged, but gently. Beginning by asking the questions "Oh, how many women have you employed to write in the past year? How many men?"
Recently there were two big band musicians that actually told me that the big bands were mostly male because men were better musicians. And they laughed. But they meant it! They were Danish guys, actually, and they were nice ones too. But what they were saying!
They compare female musicians to the best male musicians there have been. A new male musician is accepted as long as he's not in the very bottom. So – this needs to be addressed – but kind of gently, I think.
There is no difference. I don't care, if it is a female or a male. I don't like that it is being questioned at all if it is a man or a woman. It's only a question about talent.
I know you don't! I think individuals often would say that they don't mind or care about it. But in some institutions, and thankfully not all, female composers or arrangers are still not getting any opportunities at all. It can't just be a coincidence, that certain institutions have only employed men to arrange or compose. To say it is about talent implies the reason that there aren't more women employed is because they are not as talented – and I'm sure that is really not the case. However, I, like many Women in music, avoid this problem by creating my own opportunities.
I would say to all composers actually: Create your own opportunities! I think that is the best way in the long term to convince everybody of the value of music in life.
Show them how important your music is by creating a relationship with them. Do not expect someone else to create that relationship for you.
Perhaps many men wouldn't give up their power, and many women are perhaps delayed because of childrens births, so it's a tougher fight?
I don't find it particularly tough. As long as you remember not to ask permission. It will become tough if you ask permission, because you're probably not going to be given it.
Yes. Every time I've had an opportunity – when I have been given opportunities – I have taken it, as you say. And I have tried to do something beautiful with it, hopefully – I have transformed the opportunity into something . In the past when I was waiting for an opportunity to do something, because nobody else really wanted to do it, then I would do it. And people said it was beautiful.
As Creators it is our job to create. You can't wait for the permission.
I can't wait for funding, because I might not get it, and I can't allow a funding body to decide whether I'm allowed to be a Composer or not. Because I am one! But I like to get funding, of course.
A great librettist – a poet, his name is Gregory Warren Wilson. He's incredibly talented, working with ballet, playing the violin – both of very high level. He also made a minimalist film – he's a multi-artist, very good on detail, always making fantastic projects very inspiring – we work very differently and yet very well together.
And you always use the English language?
Yes. That's a problem and I'm just beginning to tackle it. We are forming a very small opera company with me and those three singers. And the first project is called "A correspondence course in Singing", based on the relationship between the Singing Teacher and the Pupil. And because I'm a flute player I know what it's like to have a flute lesson, so I'm thinking about using things that you do in a flute lesson and with Sofie singing on the top. We will book a week in the little theatre Krudttønden, as soon as we can agree on a date!
As part of this very small opera company, Simon Duus would like to commission a whole competition for a Danish libretto. So I really do have to learn Danish. I'm starting with a Danish pedagogue, because I want to learn Danish the way a child would. I've been thinking about this for a while, and I have just met a pedagogue who will start coming to my choir.
So you don't want to go back to London?
No, I don't want to go back. I love to live in Denmark. I like the atmosphere, the gentleness and the musical traditions. I really hope it will not change!
Siobhan has released 3 CDs on the Naxos label.
---
Copyright: Editshop.dk