Frits Johannesen,
Painter, Poet and Choir Conductor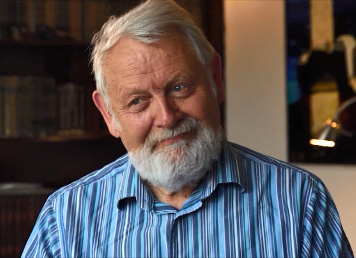 Interview: Leif Martinussen
Edition: Nete Parkov
"A small community always offers you several options to carry inside your breast as a gift", says Frits Johannesen. "I once heard Poul Erik Søe, a people's college principal, author and journalist give a talk in which he mentioned the human potentials. He referred to the abilities that we humans are equipped with – and said he had never experienced them as intensely as he did in the Faroe Islands. He told of a person from a small settlement, which was a farmer, a lighthouse keeper, took care of the small power plant in the village, was a bell-ringer, an organist, taught sometimes in school and took care of the mail boat that regularly came to the village."
In other words it is – according to Frits Johannesen – almost a Faroese characteristics to be creative and active in several fields and to learn to master multiple functions. As he himself explains it:
"It is a sheer wave of intensity that arises in your mind with expressions flitting back and forth in your thoughts every day in different ways. And especially when you live in a smaller environment, the hue may be different than in a larger community."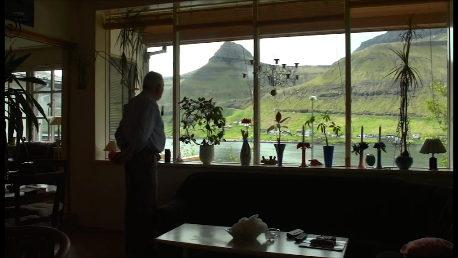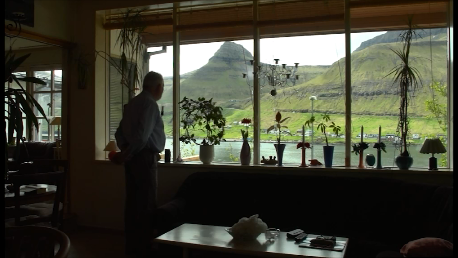 "I grew up here in Fuglefjord "Frits says. "A settlement, which in my upbringing had 1,200 people. Today there are 1,500 people, and it is a wonderful place to live."
Frits Johannesen was born May 22, 1944 as the son of Theodor Johannesen, fisherman, mate and skipper, and Johanna Johannesen, who was a housewife. From the time he was 18 he trained to become a schoolteacher in Torshavn, where he graduated in 1967. In 1978/79 he took a post-graduate at the Danish Teachers' high school in the subjects of song, music and mathematics. Here he met composer and choirmaster John Høybye, head of DLH's music department, and he became his friend for life. In 2000/2001 he again took a specialized subject, more specifically Visual Arts at the Danish University of Education. His teacher in this subject was ceramist and painter Lise Tang, who also became a good friend. Moreover, he has taken a variety of courses in both visual arts, singing and music with special emphasis on pedagogy and ideas for teaching in primary schools.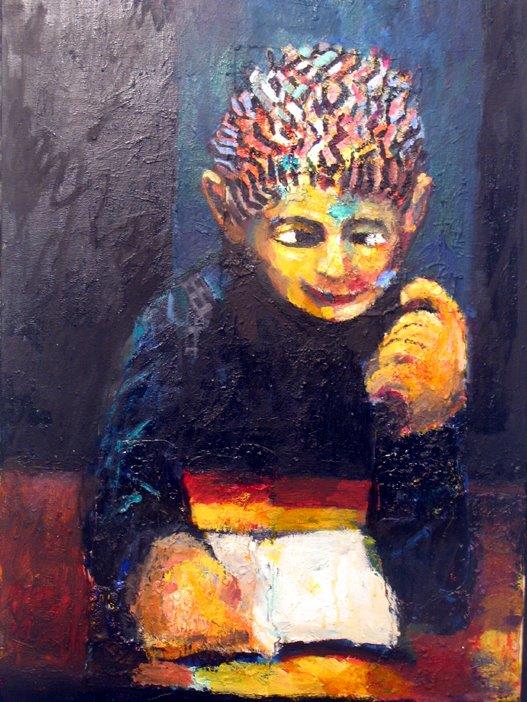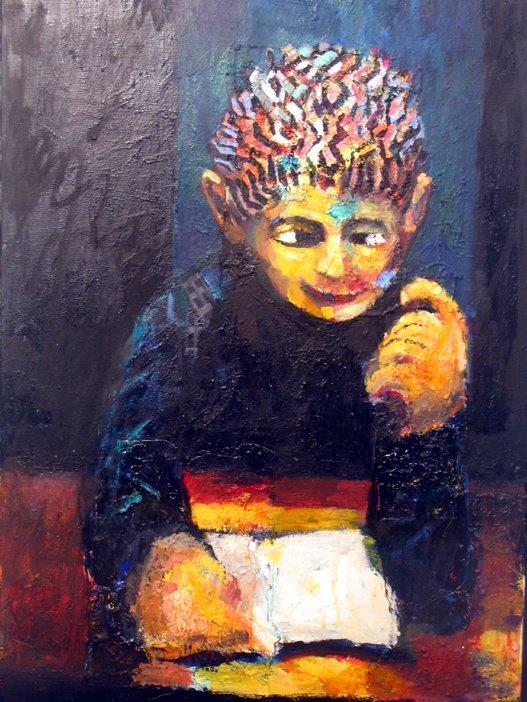 Was there in your childhood home traditions of writing, painting and performing music?
"My father was a good singer, and I heard his voice when I was a little boy, especially when going to church. He also sang in the village choir. In the winter of 1926 he had been on the people's college in Tórshavn – something that made an impression on him for life. So much that he divided his life into "before college" and "after college", which I think was very beautiful.
From 1928 to 1931 he sailed around the world to Russia, Norway, Denmark, England, Holland, America, Cuba and to the southern Arctic Ocean with a whaling boat from Sandefjord in Norway called Franternitas. They sailed from Sandefjord to Holland, Curacao, Cape Town and ended up in the the southern Arctic Ocean with 5 whale boats. He did not sail out in the world again but came back to fishing in Newfoundland, Greenland, Iceland, the Barents Sea, the Faroe Islands and the North Sea.
The versatility in our home formed an internal perspective, which struggled on and triggered revelations, giving you multiple forms of expression in song and music, art and poetry."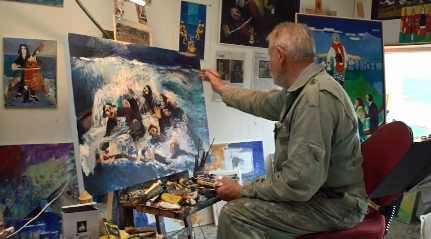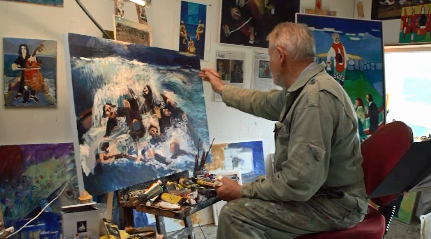 "Father's lineage was from Fuglefjord, he was born in 1908 and died in 1986. Mother's lineage was from AndeFjord, a village close to Fuglefjord.

My mother was born in 1910 and died 1977. Andefjord was a divine place. Very poetically, beautiful, with good storytellers and singers who sang Kingo – old Faroese hymn tradition."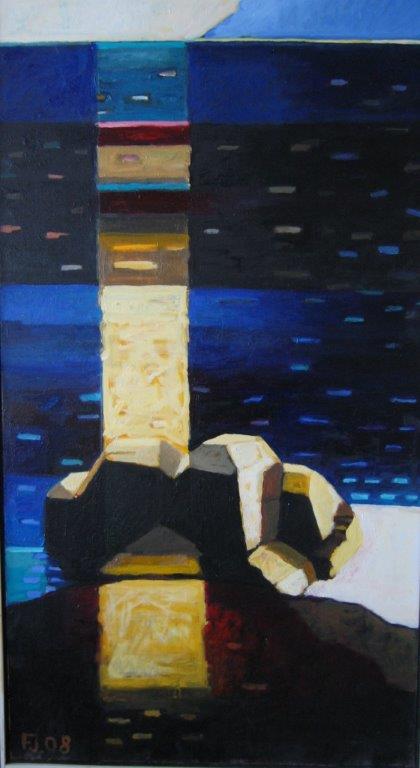 "My grandfather, Daniel Jacob Anthoniussen, was a boatbuilder. My uncle, Poul Martin Anthoniussen, was a boatbuilder too. He took over this inheritance, which he maintained until his death in 1995 – he was born in 1909. It is an incredibly beautiful tradition that touches our emotions towards the old Faroese society. A Faroese boat builder is a very strange phenomenon. To build a Faroese boat, which was an exact Faroese tradition, is very beautiful and wonderful handicrafts."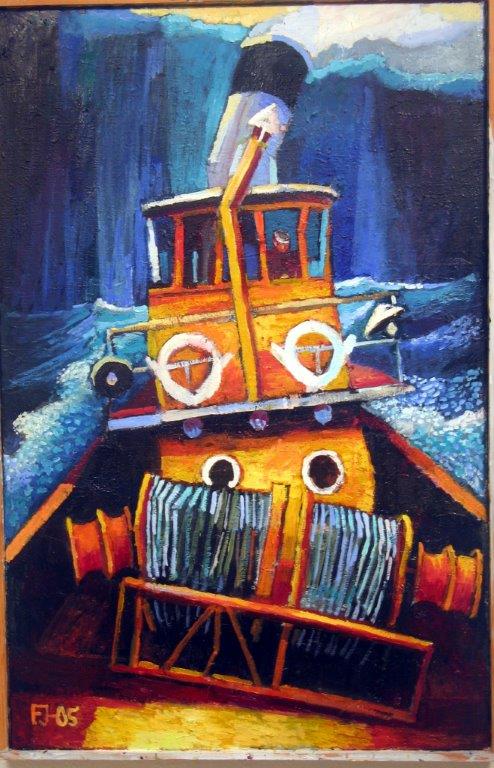 "They built these boats on "Neystaloftinum" – the ceiling in their boats shed. Many people came into this poetic ceiling where they stood talking, especially when the weather was bad and rainy. Otherwise, these boats were also built outside when, for example, in the summertime."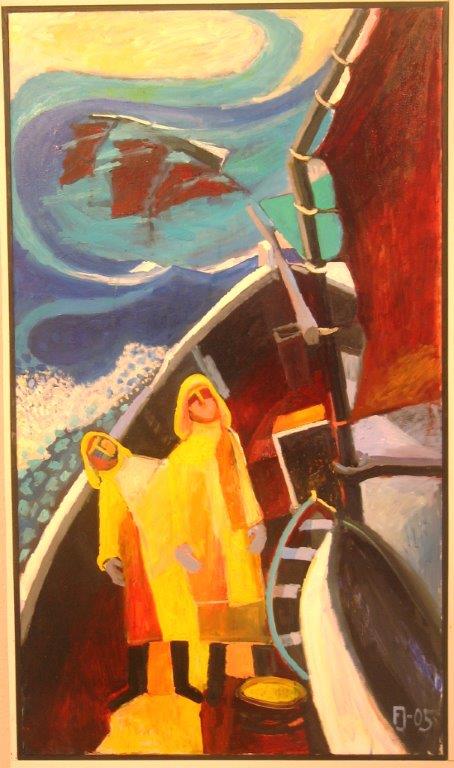 "I often came to the Andefjord as a boy and young and stayed very much in the "Neystaloftinum", experiencing this creative time – and helping with good guidance from my uncle. This creative work got stuck in my mind. It was the empty space that knocked on, giving you a very fine intense creativity, which is still stored in my heart. And this has of course given me an artistic, poetic helping hand."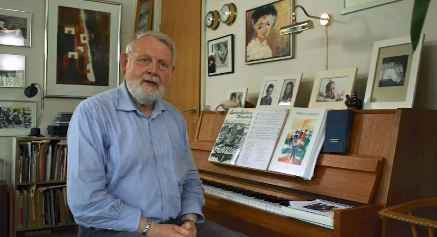 "There was sung a lot in school, both Faroese, Danish, Norwegian, Swedish, Icelandic, English and German songs that today I can remember and return to with great joy. It was a natural action to sing and an important part of the cult of home and school. Although the village in which I grew up was very small, it was actually very cosmic. A variety of fishing boats docked at the village – Scottish trawlers and Norwegian fishing vessels that fished halibut with line, and cod, haddock and herring with nets. Russian herring vessels came in the winter. About 100 Russian vessels out on the anchorage. It gave a strange image in our minds, living still in our memory.
There was a great diversity that lived blissfully in our thought worlds. We had drawing lessons at school, and many of us boys drew these vessels. We were quiet as mice in the classroom when we sat down and drew these foreign fishing vessels. Aboard the Norwegian boats was often an accordion. I can cite the example that in 1955 a Norwegian naval vessel named Andenæs, came and docked to clean the boiler. The ship had steam engine, and therefore part of the machinery needed to be cleaned regularly every year. On board this ship there was an orchestra that played for dancing, while the ship was in port. There was dancing in the village almost every night for 14 days in Dansestuen (The Dance Room). Gradually many good accordion players emerged in Fuglefjord. The tradition came from these Norwegian fishermen."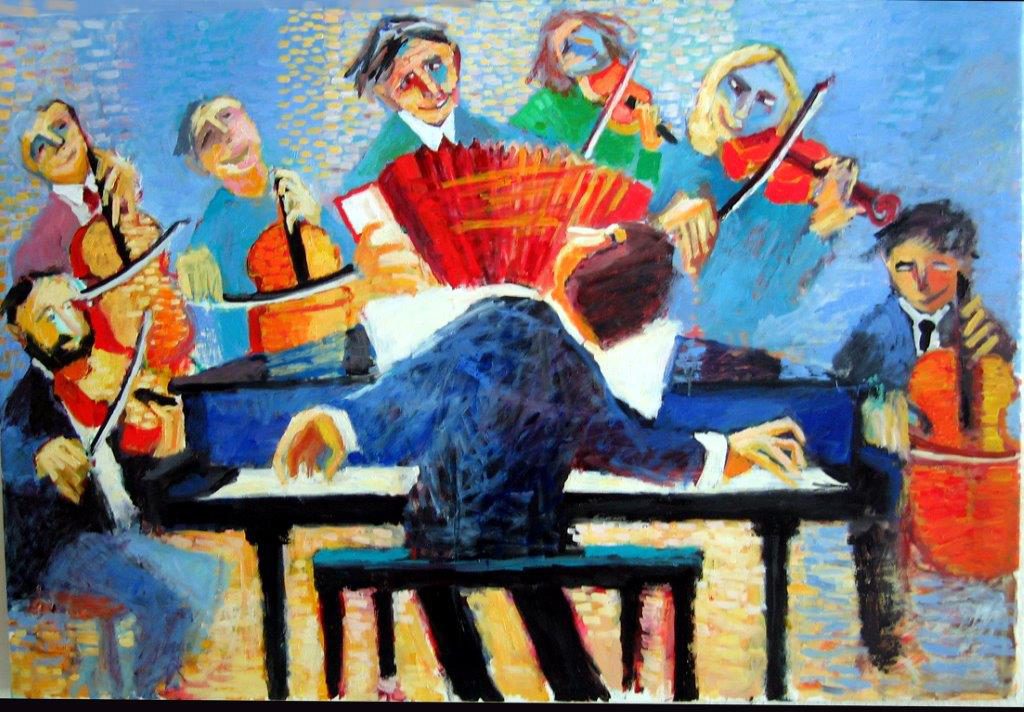 Which artists have been special sources of inspiration for you?
"There was a fine photographer in the village, Kristjan Hansen, who took many fine pictures. Several of his pictures were colorized. He drew and painted too. He was frankly a fine artist, placid, reserved, a little shy – and he taught freehand drawing in the evening classes. There was another particularly poetic person, Poul Øre. He made the finest pencil drawings and also very beautiful ship models, which we students were very excited about. You can still enjoy the ship models, as well as his drawings on the walls of the houses in Fuglefjord. He was of the same caliber as Kristjan, and they were friends.
Our first performers in the village were my uncle, Símun Oliver Johannesen, and Hans J. Hansen. They were very strange people. Símun Oliver was the first in Fuglefjord to start painting. In 1922 he painted his first picture, the scenery for a comedy. He was born 1900 and died 1983.The pictures were naturalistic and often from our own village, which is a very beautiful place with tall, rhythmic mountains, beautiful slopes and great ledges of rock formations that came to live in brush strokes by Símun and Hans J. Hansen."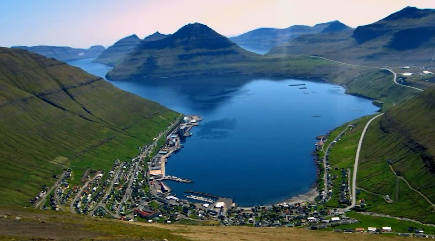 "I used to visit my uncle together with my dad when I was small, often on Sunday evenings. He painted with oil when it concerned artist colors. This fine "color smoke" came into my blood at a wonderful time. It opened up a number of image series, an artistic fauna and flora, which gave a poetic gust for thought and consideration. Uncle was a very fine craftsman. Hans J. Hansen was a multi-artist born in 1928 and dies 2003. He was an accomplished artist, clever accordionist, good singer, fine writer and poet. We lived in the same neighborhood and had a lot of common tasks in this musical field. We sang with the choir and also played together in the horn orchestra – he played Bb bass and I first baritone. He was a sailor and worker and I was a school teacher and we had many things in common, which I think of with pleasure today."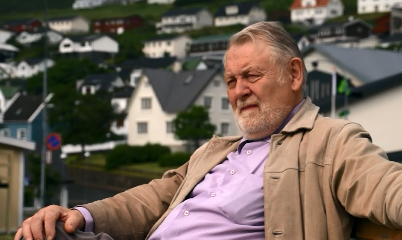 "Man is carried into the time that is, said an old man from Andefjord. Everyone is, of course, but it's very different about the approach thus arises. Even in a small settlement, the differences are quite large, yes, even inside a home. I've shared some facts from my home that has characterized my mind and thinking. Most of the Danish kingdom knows William Heinesen, who was a poet, visual artist and musician (composer). I will not compare myself to him, but he lived in Torshavn, our largest "settlement" – the capital of the Faroe Islands. At this time, when I went to the teacher training college in Tórshavn, the village was not much different from the other big villages in the Faroes. There lived at that time about 6-7 thousand people in Torshavn. Today Tórshavn municipality is home to 20,000 people.
When there was a movement in the artistic direction of the Faroe Islands, you discovered that many of our great artists and poets were coming from the small settlements. Those who have influenced my mind most during my childhood, are artists from Fuglefjord. The artist who has influenced me most in my youth, was Samuel Joensen – Mikenes, whose family is from the small island called Mykines."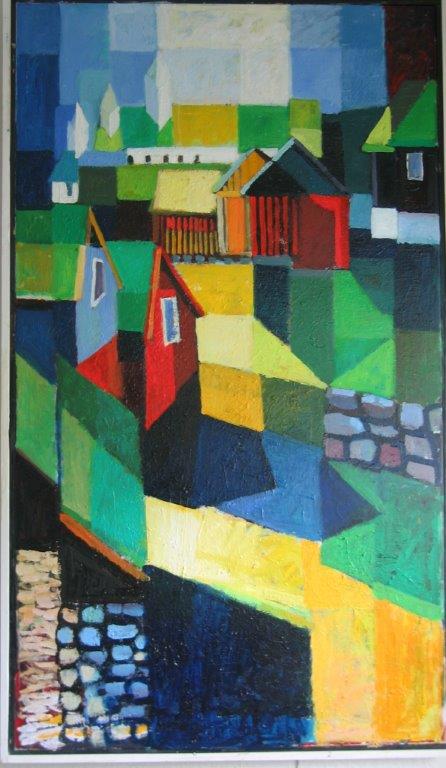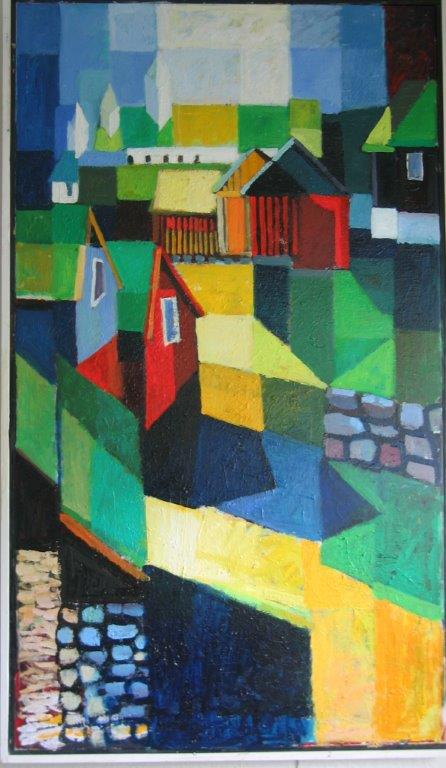 "The other artists who made their entry in my inner being, were Ruth Smith of Våg, Steffan Danielsen from Nólsoy, Jóannes Kristiansen from Lærvig, Hans Hansen from Mikladali and Ingálvur av Reyni from Tórshavn. This intertwining of fine, good artists gave me a great pattern of inspiration, so I could take my brushes in hand and begin to paint."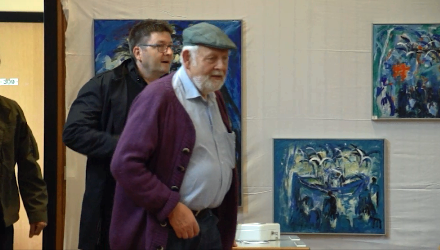 "I have always drawn, but in 1967, when I 23 years old finished studying to teach at the college in Tórshavn, I began to paint. It was a wonderful experience, to move across the canvas and feel this gray area transform into a lively, colorful pattern that still lives in the grandchildren of my brushes, embracing me and giving life to this beautiful, picturesque village presence.
It's good to have a stock of inspirations, which are constantly moving in and out of imaging, refreshing the soul's time in the body and on the canvas in colors and shapes."
Which of your artistic directions emerged first for you?
"I returned to Fuglefjord, my home town and became a teacher at the school for 41 years – from 1967 to 2008. It was great, because here I had a fine base for both visual arts, song, music and poetry. Of course, teacher training gave me inspiration to those things, and here it was poetry at Teachers College who gave a beautiful echo in my soul, because we had a very knowledgeable teacher, Sofus Joensen, in the subjects Danish and Faroese. He was a master in telling about the poetic topics in these subjects. It means that he used the old way by Faroese tradition to express himself.
Visual art was not a priority at the school. Drawing was a higher rate. There were no other options. We had a great teacher in drawing, Theodor Hansen, which I liked, and who was inspiring …. but to get back to your hometown, where you've got so incredibly much through the ear and eyes during your childhood and then to teach children in song and music, woodwork and art, mathematics and Faroese – it was a revelation of God's grace to meet these wonderful children's souls.
There's always been sung much in Fuglefjord school. All teachers included singing in their lessons. Herluf Berthelsen was our singing teacher. He had been on DLH – Danish teachers high school in 1949/50. Here he met Carl Clausen, and they became friends for life. Carl Clausen led the men's choir Bel Canto and Copenhagen Teachers' Choir, and he was the principal conductor of the Danish Teachers' Choir. Carl Clausen was a Faroes-friend and he has collected and published much about Faroese song tradition, for example Faroese Kingo-hymns. He also taught in music and choir conducting at DLH from 1941 to 1963. And here they met each other, the two gentlemen, Herluf and Carl Clausen. Herluf song in Copenhagen Teachers' choir and was an excellent singer. This choir was on tour in the Faroe Islands in 1952, as I recall.
Herluf was the leader of Fuglefjord choir from 1943 to 1974. During this time it flourished. This choir is still alive and has put down deep roots in our choir tradition in Fuglefjord and the Faroe Islands. I have been the leader of the same choir from 1984 to 2008.
I mention these things because it was my base when I came back to Fuglefjord, according to song and music. I started right away to sing in the choir and playing the horn orchestra. Herluf was a wonderful conductor and singer and became an inspiration to me. In singing lessons with him in the children's school we sang in the classes two-part songs. This was not a problem. I continued this tradition in my singing lessons, even with three-part singing and playing flute and horn. We have a brass band in the settlement, which started in 1969. Right from the beginning as a teacher, I came to teach visual arts from 1967 to 2008. It was a very exciting and sensitive time, which has given me many fine poetic inspirations in my work as visual artist as well as choirmaster."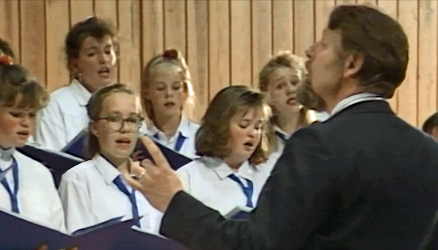 "There was established a girls' choir at school called Fuglafjarðar gentukór, which started in 1980 and continued until 2001. It was a very fine choir, and we had concert tours here in Scandinavia and in Germany. Twelve times we were on concert tours abroad.
Here I shall mention a colleague at school and a good friend, Jógvan á Lakjuni who composed fine tunes for the choir, and who is a good pianist – and my cousin, Heðin Kambsdal, a fine image artist who trained as an organist from the academy in Esbjerg and many times accompanied on the organ to the songs we were singing. In addition Eyðun á Lakjuni, Jógvans brother, who played on the piano, a good accompanist, also conservatory graduated from Odense and head of the music school in Fuglefjord. All are from Fuglefjord.
We had a nice connection with Tage Mortensen, head of the Danish Radio Choir and with John Høybye, head of Tritonus. There were good friendships, and it has been a wonderful time each time we have visited each other privately and with the choir. It was an enriching time with many good inspirations and exchange, both musical, poetic and artistic."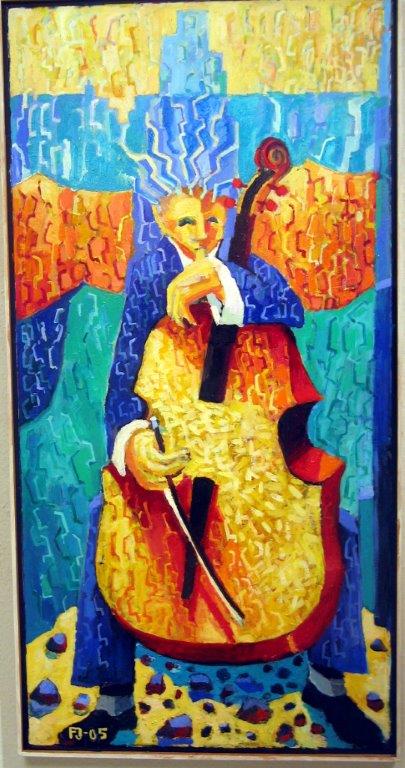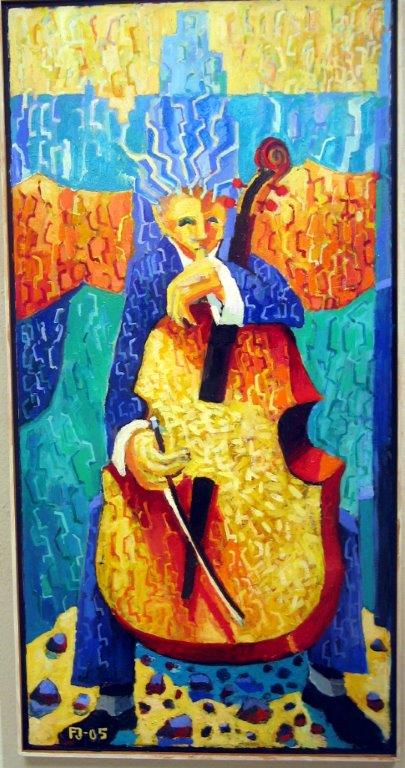 "The things that I have mentioned here has given me a wealth from the small community of imaging, music and song. In addition to some poems and texts to music I have written many articles in the newspapers about music and art, as I have written 6 singing games for the children in Fuglefjord school. For three of them, I have also written the music."
Some of the themes are repeated in both poems and paintings, such as the notion of an altar on a mountain top – even though the painting altar is covered in summer, while the altar in the poem "Winter clouds wandering ceremony" is covered by nature itself as the sky throws it's load over the mountain altar, whereby "the white altar cloth spread across the leaden basalt plinth".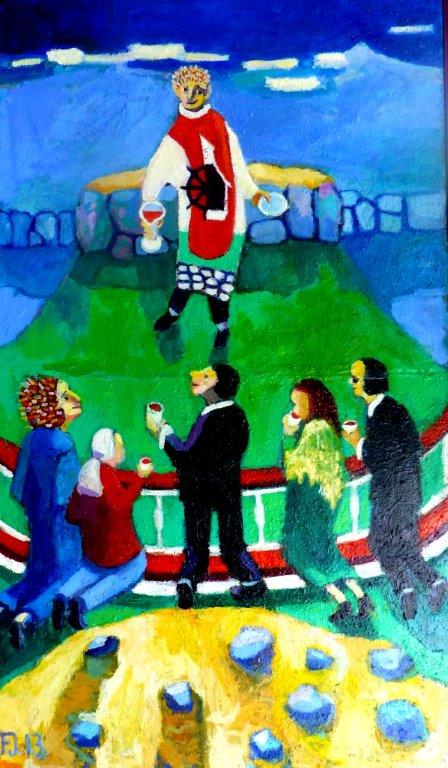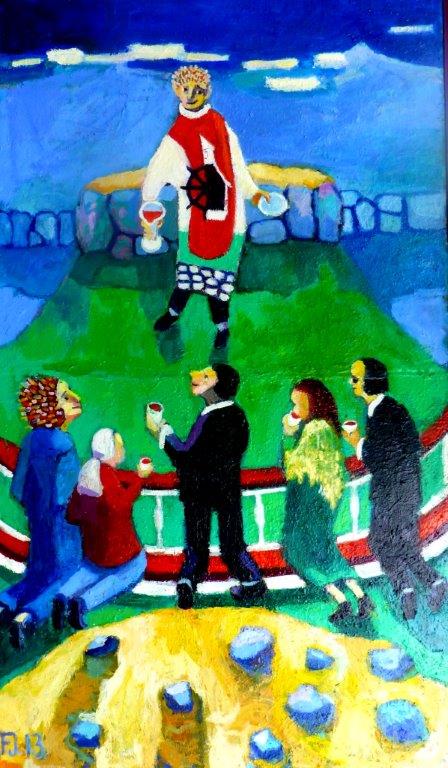 "Four poems I have written to Leif Martinussen, who has made music to them – and I have written the text for a cantata, which John Høybye has set to music and performed in Fuglefjord Church 2009."
It is characteristic of Frits Johannesen's artistic expression, that there are issues, he never finished working with. One sees for example the half gables, half the windows and half wheels recur in several of his works. Thus he explains it: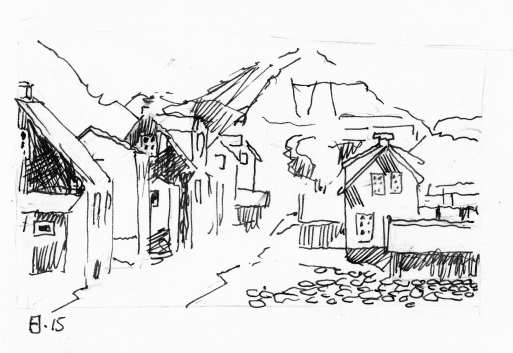 "This sketch is towards my childhood home in Fuglefjord, the village where I was born and raised. When you walked in that direction, you could only see a part of everything there was to see, you saw almost only half gables and half the windows. It is not necessary to paint all sides and all the windows, because people know how these things look like. Yes, many times you have come this way and seen this graceful motif that I have painted several times.
Much water has passed through the stream, since I began to paint and draw half gables, half the windows and half a wheel. The inspiration came from the subject above where the last half gable is my childhood home. It was a graceful childhood world, which stuck chiseled in my mind. You often see this formation when going through an old Faroese village.
Later the half wheel came into the picture in a very special way. Sometimes when I was a little boy and went to my uncle in the village, a horse drawn carriage stuck out of the corner of an outbuilding. You only saw half a horse-drawn carriage and a half wheel. This half wheel has pursued me over a lifetime. It began to come into the picture in different ways and has now found its safe area in the center next to a half Church gable of an old Faroe Islands church. That's where it belongs.
The renowned French Fauvist (expressionist), Henri Matisse (1869-1954) says that it is not necessary to present all the details when we paint, we must take only what is important. So also, when we tell from anything that we might have experienced together. We take what we each think is important. It is very individual. Here psychologists entered the picture and proved that it was true, as Matisse said .. and we got Gestalt psychology. A psychological orientation based on a theory that man experiences a complex sensory impression as a whole, which is more than the sum of the individual components of the sensory impressions.
The feeling of the image must reflect what it has to announce and impose the viewer, even if he does not know the subject. In this way, the image becomes like a face and the reflection of the painted effects as its mimicry."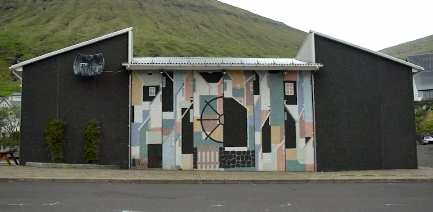 "I have decorated the end wall of our culture house – cast a huge relief for the prayer house in Hellerne, hanging on its one side – made a large wood carving for the student school in Kambsdali, which is close to Fuglefjord –  and decorated our new nursery. All of these things – choir life, art and poetry – I have kept a hand in all these years while I have been teaching. I have stopped choir activities, but I take care of my brush children daily according to the painting.
About 20 years old was I when I started to paint. Back then it was especially my uncle, Símun and my neighbor Hans J. Hansen, my parents and the children who gave me inspiration. The Nordic folk culture, songs, music, poetry, art and language have been very important for my activities. The nature, the mountains around Fuglefjord, kids, people, light and cosmic has been my glow in the imagery, and still is."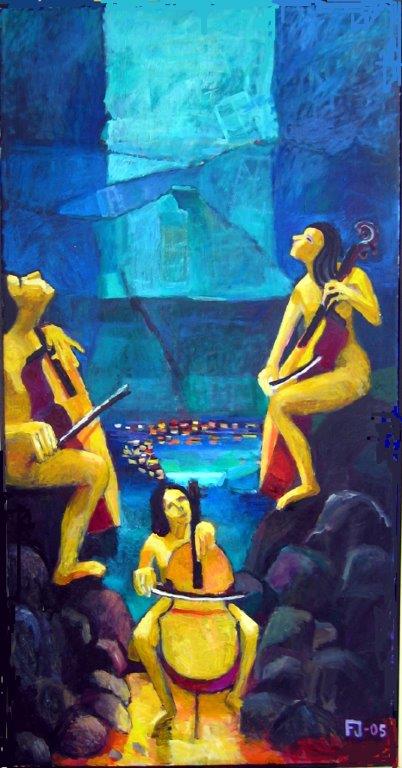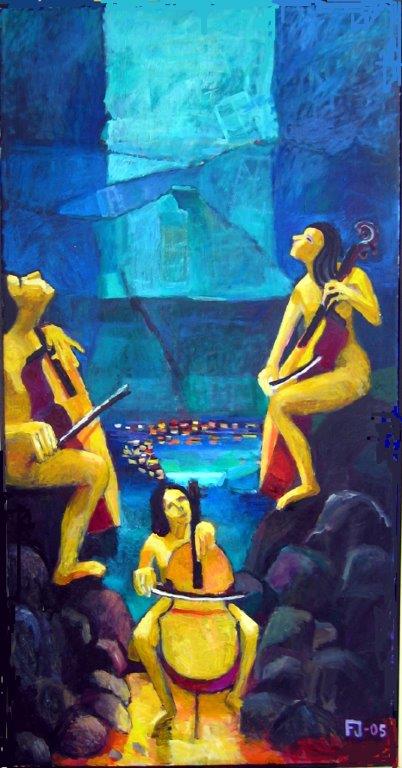 "I am turning 73 years this year, so life has been an artistic divinity – an eternal glow in my mind that I will hold on as long as the heart beats and creativity in the artistic subjects gives inspiration and maintenance of this eminent beautiful rhythm of life, which is a glow in my soul and my mind.
And there is especially one that has been dear to me and helpful in all these years we've known each other – Alexandra, my wife."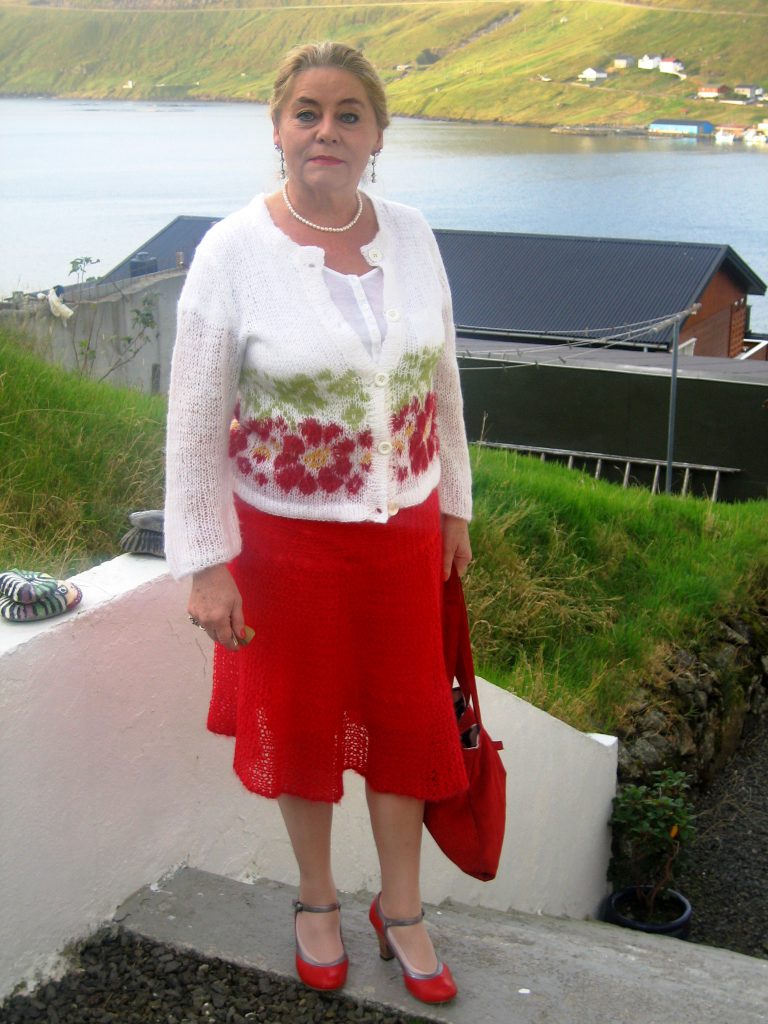 "We were married in 1972 and have two wonderful boys together. She has been my major source of inspiration for all these years. She is an artistic woman who uses her creative sense every day. She knits her own dresses and stockings, sweaters for children and adults. Her dresses are works of art of incredibly beautiful format. She designs them and uses a palette of colors, which is so inspiring to me, with the glorious cuts and the colorful shapes, she puts together and turns into a full equity flower which moves in mind all the time and gives daily bread to my brush children. It is beautiful."
Copyright: Editshop.dk