Bernadette Dobos
Text and translation: Nete Parkov
Idea and interview: Leif Martinussen
When the strings of the symphony orchestra all break through, cellos ray in the sound with the special glow on dark, warm tone colors and strengthen the common string sound. The cello has inspired several great composers because the instrument can be particularly speaking to the human emotions – it can move, and it can sometimes compel the audience tears of both pain and pleasure. But that of course requires that both the musician and the instrument are made of the right stuff.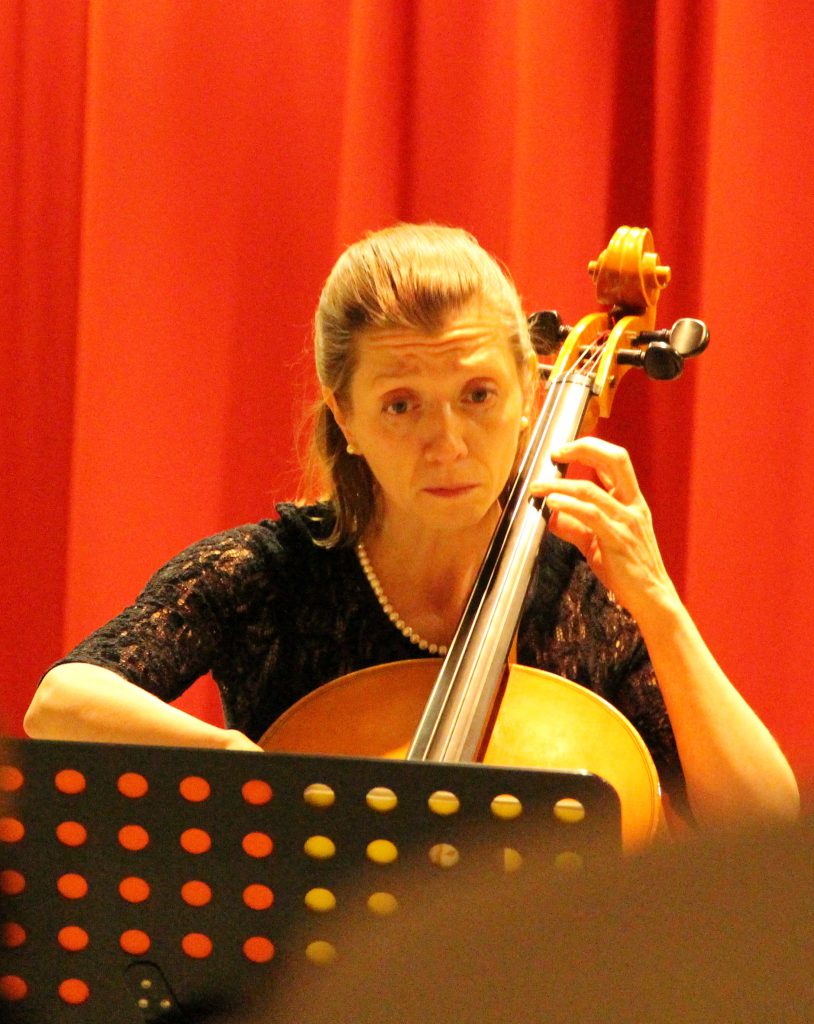 Cellist Bernadette Dobos is an artist on her instrument, and her cello was built on one of the world's most renowned instrument maker workshops, namely the house Nemessányi in Budapest. Bernadette says:
My cello was built in 1993 by Laszlo Nemessanyi, a great descendant of the famous violinist and violin maker Samuel Nemessanyi, who lived from 1837 to 1881, and which made the family name famous worldwide among violinists and connoisseurs.
                                   See instrument builder's website
My cello is a French model, and it has a very rich sonority. I have used this instrument since 1994.
Bernadette moved to France in spring 2010, and here she lives with her French husband, Dominique Chaumier and their young son Daniel in Souillac, Vallée de la Dordogne, Midi-Pyrenees in the southwest of France.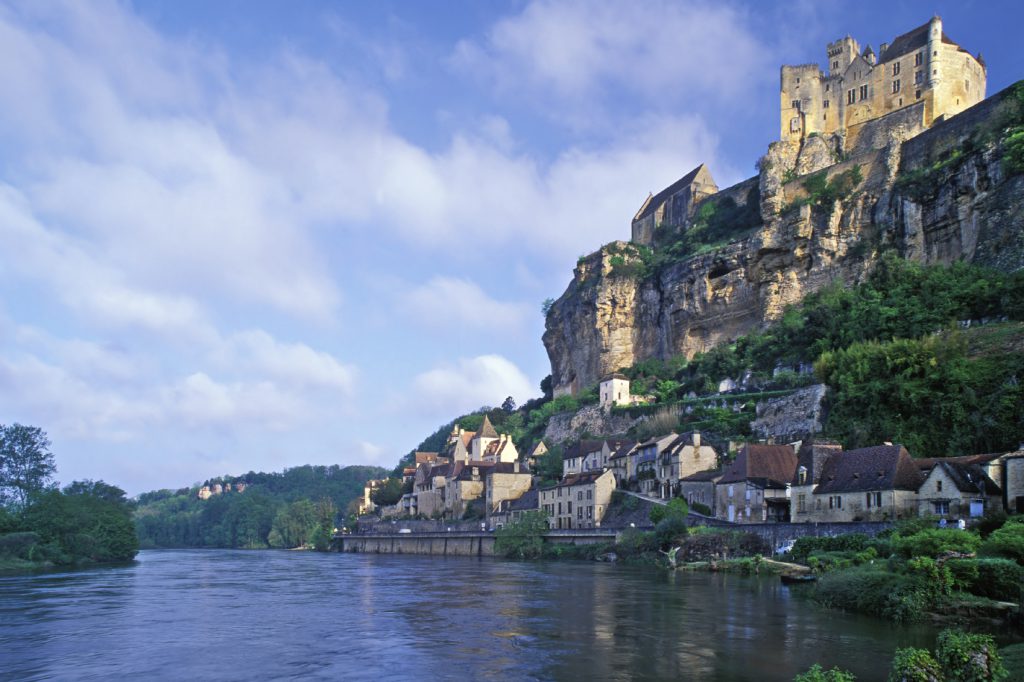 I met Dominique in the United States where we both studied music – my husband plays French horn. His family live in this region, so that's why we ended up here. It is a beautiful place with lots of history and nature. The area has plenty of caves from prehistoric times and many beautiful medieval buildings, which fortunately has not been destroyed by wars. Nature is very important to me. It is important to be able to get out, feel the fresh air and discover the many changing colors. Nature gives me a calm mind, and the motivation for the the music I want to pass on to the world and to my fellow human beings.
Originally Bernadette came from Hungary. Here she grew up and still experiences Hungary and Budapest as coming home.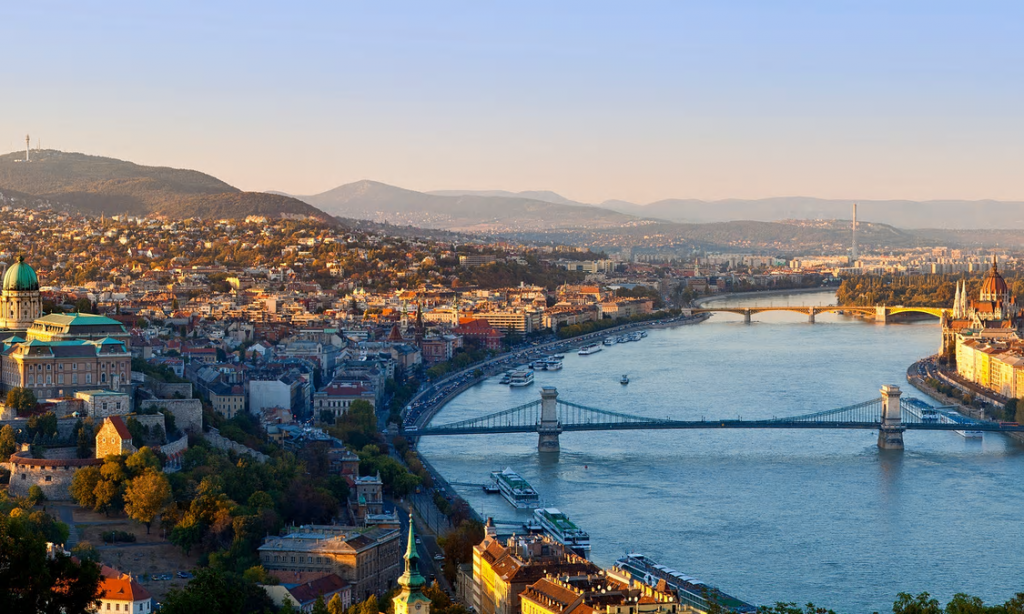 I love the beauty and the active life of the country, and even though both my parents have passed away, I still have family and friends here. Unfortunately we are not able to travel here as often as we would like, but it is important for us that we come here. It is also important to speak the Hungarian language and teaching Daniel, my son, the Hungarian language and to bring in our life the Hungarian culture.
Bernadette's father was the renowned Hungarian pianist and composer, Kalman Dobos.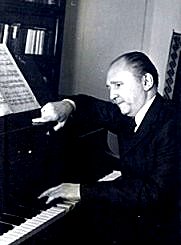 My father traveled a lot around the world to give concerts. When he was home, we always heard his music in the house, especially his own compositions. He practiced with strict self-discipline and regularity every day. He showed me a great example of the importance of work as an approach to achieve goals in life. His sonata no. 2 for cello he dedicated to me. And the very last piece he composed in his life he dedicated to Dominique and me – a piece for three instruments: French horn, cello and percussion. I've also played several of his other works.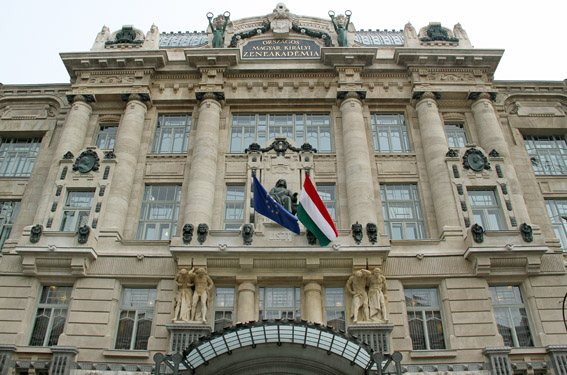 In 1995, Bernadette finished her conservatory-education at the Franz Liszt Academy in Budapest and then taught at a music school in Budapest for 4 years. But she wanted to continue her studies and develop her skills at bridging education. In 1999 she got the big chance of her life when she received a scholarship to study in the United States, at first at Duquesne University and in 2001 at Carnegie Mellon University, both in Pittsburgh, Pennsylvania.

Originally Pittsburgh was an industrial city, but in the 80s the steel industry collapsed. Most factories in the city had to close down, and the population declined sharply. Since then, Pittsburgh's industry mainly turned towards high technology, health, biotechnology, tourism, finance and service. Today Pittsburgh is an attractive city with a clean and comfortable environment, low crime and a wide range of cultural activities. Bernadette says:
There has in Pittsburgh since 1896 been a symphony orchestra that helps to give the city a distinguished reputation and a rich cultural life. Musical life in the city is intense. Many of the orchestra's musicians teach at the city's universities, as they provide a lot of chamber concerts. It was a great opportunity for me to work with many of them, to listen to them and learn from them. In Pittsburgh, I learned more about orchestral repertoire for cello and on how to prepare before an audition than elsewhere. The instruction was put great emphasis on chamber music programs, and it gave us great motivation to practice and work hard. There were seasonal concerts with lots of excellent and famous chamber orchestras and soloists. And then there's a fantastic library in Pittsburgh, the Carnegie Library, which has a large department with music. I do not think I have seen so great audio, video, and music collections like that. It was really exciting to explore.
And the experience of the live chamber music tradition from Pittsburgh took Bernadette Dobos and Dominique Chaumier with them to France and launched their own version. Along with two other musicians they founded in 2010 an ambitious and visionary chamber music project with the ensemble "Orchestre de la Crise".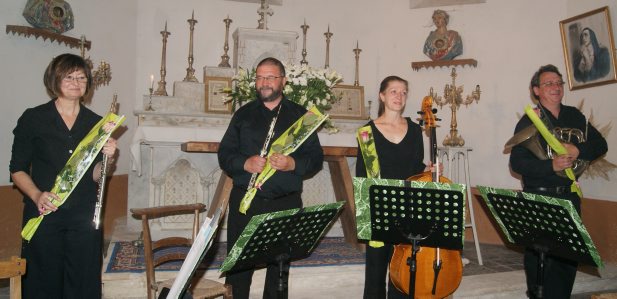 The orchestra is a flexible ensemble, consisting of between three and seven musicians to adapt to a variety of venues, apartments and musical styles. All members are professional and highly skilled musicians. In order to adapt to different musical presentations (church concerts, receptions, ceremonies, etc.) the ensemble members write their own arrangements in different styles: renaissance, baroque, classical, romantic, tango, ragtime and other (Beatles, Harrison, etc.). http://www.orchestredelacrise.fr/
The orchestra has participated in such diverse events such as concerts in churches and concert halls, a Bach festival, an opera in an amphitheater as well as series of educational concerts.
We created the orchestra to play as many concerts as possible and to show people that music can live in small ensembles. What surprises people is the fact that a small group of instruments can play pieces that are written for a full symphony orchestra. Instead of 80 or more musicians, we are 4, 5 or 6.
We play different styles, because we want to give more people the opportunity to experience different kinds of music. And since there are no repertoire for just our combination of instruments, we even arrange and transcribe our repertoire. Usually it's my husband, Dominique Chaumier and his brother Laurent Chaumier (oboist in our ensemble), who are in charge of this work. In addition to our participation in the orchestra or other musical projects in the region, we are all teaching besides.
The major orchestral and concert experience has given Bernadette many tasks that meant traveling far and wide, both as an orchestral musician and as a soloist. In the United States, she has performed in Pennsylvania, West Virginia and Ohio. She has played with several symphony orchestras in Hungary, on numerous chamber concerts in different European cities and as far away as Mexico and Japan. In addition, she has participated in a large number of masterclasses.
Any of my travels – whether it was to participate in concerts, courses or masterclasses – opened a new door in my head and in my life. They created new ideas, which advanced cultural boundaries. They created new friendships with lots of people and opened my mind to new approaches to work on my instrument. Every time I returned home I was both exhausted and at the same time full of energy and motivation.
The play as a soloist and being part of a group (chamber ensemble or symphony orchestra) finds Bernadette equally important.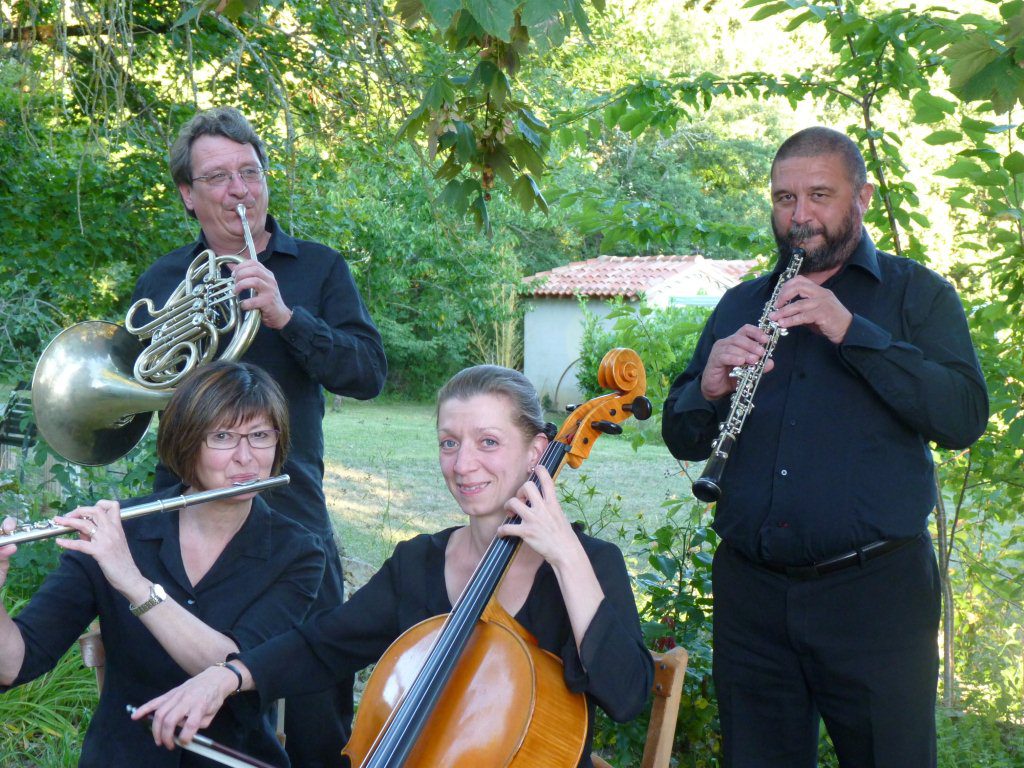 I think they complete one another. After a day of rehearsing orchestra works, it is important to find motivation and strength to practice regularly. And then solo music or chamber music is a good option. For tone generation and the technology it is important to work regularly alone. And to maintain the enthusiasm to do what we do, day after day, it is very important to have different types of experiences.
Orchestral rehearsals, concerts and daily musical training are not the only major tasks in Bernadette's life.
In August 2013, we welcomed our son Daniel Laszlo Chaumier to the world. He is the greatest gift in our lives. However, being a mother and an artist is not uncomplicated. I am wife, mother and artist, and all three parts are very important in my life. When I am preparing for a concert, it can be difficult to find enough time for both the cello and for my son. For the most part, I find, however, the balance with mutual help from my husband. The fact that my husband is also a musician, is making it easier to help each other out from a common understanding of music as an important content. And there should also be time for hikes in nature – for cooking, which I like very much – and for the daily housework. Hard and good work and to remain myself in thought and deed is what brings me forward. Not to speak of good reading material – the day can not be completed without reading.
Bernadette's wishes for the future of the world is mainly directed at the human education and culture.
For any society I want a recognition that there should be greater emphasis on education and culture everywhere. It should not only be the Capitals who are met when loading budgets for education and culture. Music and art should be a natural part of the basic education everywhere equally to all. Only thus we will be able to improve our human mentality and enrich human life.
---
Copyright: Editshop.dk